Della Duke: Riding Through The Memories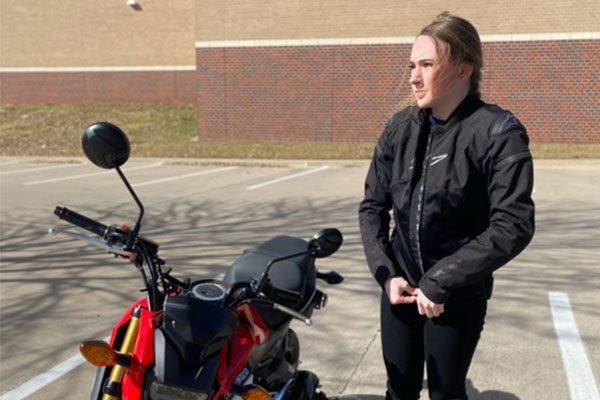 In the middle of the school parking lot, students arrive and circle in search of a spot. As students walk toward the school and others procrastinate in their cars and wait for friends, sophomore Della Duke appeared on her motorcycle, ready for the day. 
Duke learned to ride her motorcycle in July of 2020 at 15 after she took a two-day instructional course and has since made it her primary transportation. 
"My dad convinced me to get my license, so I thought it would be fun to at least get it, If I never used it then oh well," Duke said, "but I never expected to actually get my own motorcycle."
The inspiration came from her dad's past motorcycle experiences. Duke's dad owns a Honda Elite 50s from his teenage years that he used to ride around the Mansfield area. 
"I think it has been a good bonding experience," Duke said. "In the summer we would ride together and we would go exploring. He would take me to places that I had never really seen here in Mansfield that he went to all the time as a kid and he would tell me stories of him and his friends."
Aside from the memories Duke makes alongside her father, her motorcycle became an everyday essential for her. The bike serves as her primary form of transportation to and from school.
"The bike is what I use every day," Duke said, "but there are times that I either don't want to ride or can't because it is too cold or rainy. If it is in like the low 30s or if it is pouring rain, then I won't ride that day and luckily my mom can take me to school."
Duke values the time she has enjoyed on her bike and with her father and appreciates the overall experience the motorcycle gave her.
"I enjoy being able to go to school and other places alone and I love the feeling of just riding in general after not being on it for a while."