Toby Eaton: Running Towards His Goals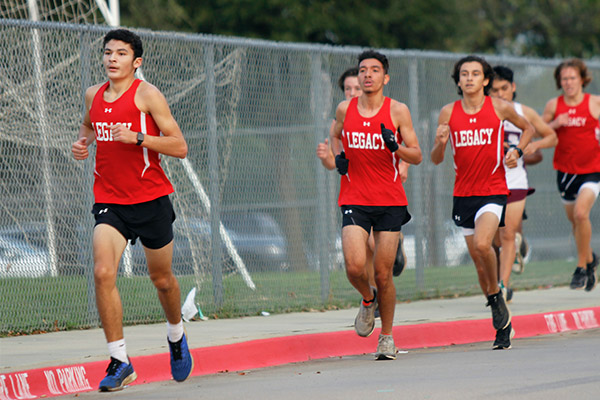 At the sound of the gunshot, he picked up his feet and ran like his life depended on it. The cold air numbed his face but the pain only made him go faster. Giving it his all toward the finish line, freshman Toby Eaton finished eighth overall in the varsity UIL district race.
Because of the pandemic, Eaton's season and school year does not resemble what he thought it would. His role as a freshman athlete became his favorite part of high school because of his role in cross country and track. 
"I do online [school], and it's easier. I don't have to wake up so early to get ready for school," Eaton said.  "My teachers are really light when it comes to giving out assignments, so I don't stress about school as much"
Team captain senior Ethan Elston took Toby under his wing and helped him in his journey as a runner. Because of Elston's guidance, the pair's relationship evolved from teammates into a real friendship.  
"[Toby's] work ethic is great," Elston said. "He works hard at practice and isn't afraid to suffer during workouts, but he manages to make it fun and enjoyable."
Before high school, Eaton played basketball for travel teams, but in high school, he realized his love and potential for running.    
"This year I decided to run track and not do basketball," Eaton said. "Even though basketball was my favorite sport, I wanted to go on my own path and do track."
So far, Eaton has created a strong bond with his teammates, and he plans to carry it with him throughout the rest of high school. 
"I've had some great teammates and a coach, and they have definitely made my freshman year a really smooth sailing," Eaton said.