Growing up, I always thought of my older brother as just that, my older brother. There is a five-year gap between us, and up until recently, I had no idea the amount of influence he has on my life. Landry, my older brother, taught me how to throw a ball and excel in sports, but more importantly, he has been my biggest mentor in how to live my best life.
In middle school, I began playing football with the school, and I didn't receive much playing time. During one of the games, I decided to take my helmet off and talk to my friend during the second half on the sideline. I didn't think much of it but after the game, my brother stopped me and said "don't ever turn your back to the sideline or take off your helmet. Show your coaches that you care and respect them enough to be ready to go in at any point," and gave me a sucker punch to the stomach then walked away. Now, over three years later, I subconsciously find it hard to keep my helmet off on the sideline for more than a few plays. Beyond football, I find it hard to not be prepared for anything. During this time in my life, Landry also drilled into me the importance of respecting authority, specifically coaches.
Landry's faith in the Lord is something I truly admire. Our entire lives, we have been involved in our church, and I've had the pleasure of having my brother as one of my leaders in our youth group. With him being one of my small group leaders for a few years, I've been able to see a side of him I didn't know existed. The passion he shows leading others and talking about his faith is something I strive to model my life after. Now, anytime I'm leading my small group of sixth graders I almost have to pause and think about the things my brother told me at this age and the influence I can have on shaping these students' lives. More often than not I find myself even sounding like Landry when I speak.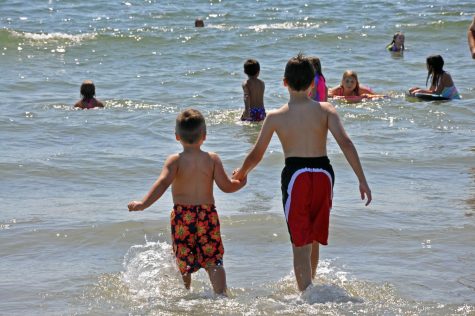 My relationship with my brother hasn't always been like this. Over the years as I've grown up our relationship has changed from playing video games together to counting on each other for help and to be a friend. Sometimes I describe it by saying "the farther he moved away, the closer we got" because maybe it was just that I got older, but our relationship has thrived since Landry moved to East Texas for college.
I know I can count on my brother whenever I need to. If I'm struggling with school, Landry's got me. If I'm having trouble with girls or friends, he's my go-to. Even if I see a funny meme, I send it to him. Now I know not everyone has this relationship with their family, but I believe it's important for everyone to have a mentor that can help guide them through life. When you develop these relationships, you form bonds that feel unbreakable.
Landry, this is my apology for annoying you and making you deal with me for the last 15 years of your life. Thank you for all you've done for me in shaping who I am today and setting a great example for a clueless 15-year-old kid. Thank you for countless memories made and moments shared. More than anything, thank you for being a friend.