Mackinly Gerhard: The Importance of Eating Healthy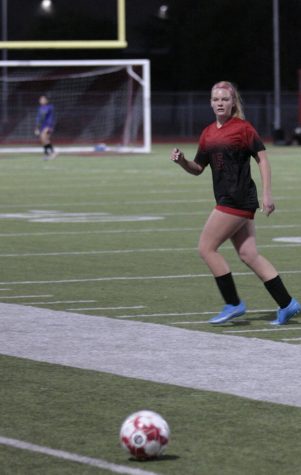 As her eyes adjust to rays of sunlight that beam through her bedroom window, junior Mackinley Gerhard walks to the kitchen and begins her favorite part of the day: the preparation of a healthy breakfast.
"For as long as I can remember, I have always been surrounded by health nuts; my parents always made sure to surround my siblings and I with healthy food options," Gerhard said. "When I was younger, I didn't really understand it– however, now that I'm older, I find myself being more conscious of the food I consume."
Similar to the demographic of 20 million people within the United States, Gerhard's sister discovered that she is gluten intolerant. After the discovery, the Gerhard family decided to make a switch and only have gluten-free foods available at home. 
"Personally, eating gluten does not affect me– I am only gluten-free at home so it doesn't affect my sister. Making the adjustment was hard because I could barely find any desserts in stores that were gluten-free, so instead, I started looking for recipes on Tik Tok," Gerhard said. 
Now one of the most trending topics of Tik Tok, the promotion amongst Generation Z of healthy lifestyles has allowed teenagers across the globe to be educated on healthy food and its benefits. 
"My favorite thing to do is watch recipes on Tik Tok. Creators like Bria Lemirande have really good recipes for those getting started with healthy eating– watching her content makes me feel motivated to create good food," Gerhard said. 
Growing up in a health-conscious family, Gerhard has always been aware of the food she eats and how it affects her body and self-confidence. As someone who is active on several different social media platforms, Gerhard constantly advocates for self-confidence amongst women by spreading positive messages and posts. 
"I believe that everyone should just eat whatever they want. Personally, because I grew up with a health-conscious family, I feel like eating healthy makes me feel the best. However, I obviously have those days where I go out and eat the most unhealthy food because I know that I occasionally deserve to enjoy it," Gerhard said. "I am totally against the toxic mindset and stigma of completely restricting yourself to healthy foods only– eat what you want! Food intake should never be a factor of one's self-confidence."
Junior Praisy Geevarghese believes it is important to integrate nutrition within all kinds of food, especially food derived from her motherland, India.
"I had spent a good amount of my childhood in India, and the food was always packed with nutrients that I have grown to love," Geevarghese said. "Ranging from fresh rice, various curries, vegetables, lentils, and different meats – I love the culture/food of my home, and I know that the nutrition I gain is similar to nothing else."