Off to a Running Start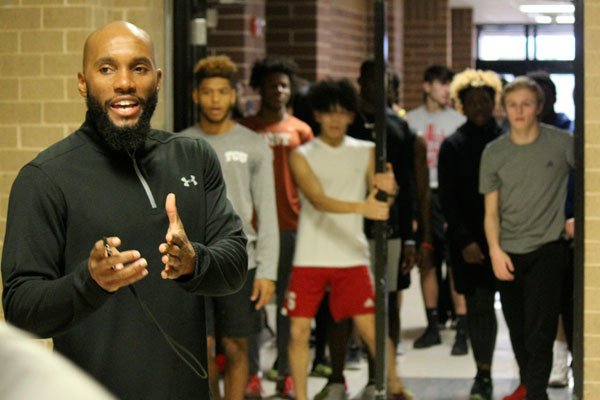 Runners line-up at the starting line and take off sprinting on coaches whistle. With every step their shoe soles wear down on the track, with every step their breathing gets a little heavier, with every step their legs become more fatigued. Days and weeks of intense training are to follow.
The start of track season began for the Broncos. And for the previous six years, at least one member from Legacys Track team has competed in the state meet, and for junior  Ife Adeyi, he expects the team to do big things.
"Its very important to me to maintain Legacy's reputation of being one of the faster school in Texas. And we definitely don't want to lose to any of the other schools in the district. We can achieve that by continuing to work hard in practice, remaining humble, and focusing," Adeyi said.
Adeyi would agree that the practices are challenging but will only be beneficial later into the season.
"I feel like our tough practices are gonna pay off in the long run because we plan on going to state and finding success, and in previous years someone from our track team has gone onto the state meet and this years not gonna be any different," Adeyi said.
There's some new faces this season as last year the men's track team graduated five sprinters including Trent Mcdonald, who currently runs track at the University of Houston, but Adeyi knows the athletes still in the program have the talent to help the team win meets. Such as seniors Jais Smith and Kadeem Burton. Both athletes have committed to Houston for track. Smith's a descendant from the 9-time olympic gold-medalist Carl Lewis.
"I feel good about this season," Adeyi said. "We have a lot of fast guys on our team and we have some new people who have some talent, and some returning people to help mentor the younger runners. It should be a good year."
Feb. 18  Legacy will be hosting the annual Bronco Relays, their first meet of the year. The meet starts at 7:30 a.m. and will go to 7:30 p.m. 14 schools from around the Mansfield area will compete as well as schools from other districts.
"People should come out to watch a potential state championship track team in the making," Smith said.