Varsity Football Remains Playoff Contender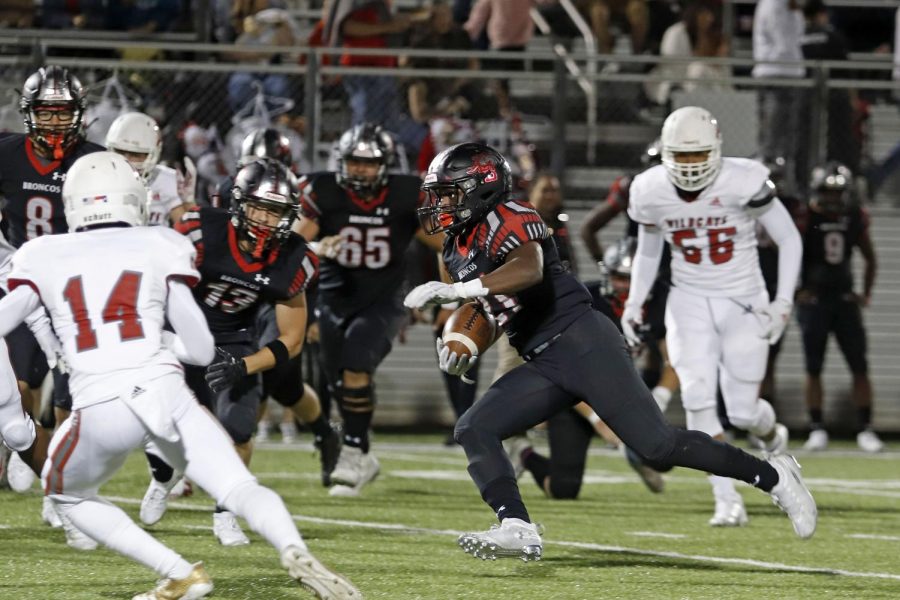 With every step he took, his feet sunk into the ground as his speed increased. The cheers from the audience made him want to go faster and score a touchdown for his team. Junior Carlos McIntyre made a pick-six with a 50-yard return which brought the score up to 34-7
with seven minutes to go on the clock.
"I was just thinking 'catch the ball' and after I caught the ball I just ran," McIntyre said. "Our coaches kept telling us our time was coming, and after that game, they told us to keep on going."
The Broncos charged onto the field the night of Oct.18 in front of a packed audience at R.L. Anderson with a 0-6 record and a rank of 528 in the state. Sophomore Beau Kilgore took his position to play his second varsity game as quarterback.
"We just kept the mindset of putting the team first and that we were going to win," Kilgore said. "We knew we were winners, and we just haven't produced yet; now is our time to blossom and show everyone that we can do it."
The players went into the homecoming game with high hopes of a win against Dallas Woodrow Wilson. They viewed the game as the start to their playoff season, with the knowledge that this game could make or break their chances at playoffs.
"We had to beat Wilson, and it was kind of our first playoff game so we approached it as that. We said 'you better be your best and be sharp and be ready' so we could get a win and keep our playoff hopes alive," Coach Melson said. "It's always important to think like that, but if we didn't win the game, then our dream of the playoffs would be over."
The Broncos now rank 459 in the state. The win against Wilson moved their position up 69 places.
"There is definitely a better spirit," Kilgore said. "We know we can do it, and we have a good mindset about things; we know what we can do, that we can win games and that we can be successful."
The team energy increased as they draw closer to the end of the season with a win. The Broncos must win the last four games of district in order to make it to the playoffs. Legacy suffered losses all season, but the Woodrow Wilson game served as a turning point for the season.
"Even through the tough losses, they came out here every day with a positive attitude and worked hard, listened to their coaches, didn't point fingers or play the blame game. They all really believed in what we were doing and that's a lot of fun as a coach," Coach Melson said. "This team has a lot going for it. From the outside looking in, you might not see it, but from where I sit, it's a good team and we're real excited."
The Broncos take on Dallas Bryan Adams at Forester Stadium on Oct. 25 at 7:30 p.m.
Donate to The Rider Online | Legacy HS Student Media
Your donation will support the student journalists of Mansfield Legacy High School. Your contribution will allow us to purchase equipment and cover our annual website hosting costs and travel to media workshops.