Update: Swim Teams Qualify for State
UPDATE
At the swim regional meet on Feb. 1, the men's team reigned as the regional champions and the women's team placed second. Senior Eric Stelmar qualified for the state championship alongside seven other seniors, two sophomores and one freshman. The 2020 State Championship Team includes:
Alicia Bernal
Abigail Jameson
Ashely Otero
Isaac Perez
Saul Reaza
Sergio Reaza
Kate Rose
Vincent Sok
Eric Stelmar
Justin Wawrzynski
Johnathan White
"I feel so proud of my team for working so hard this season and making it to state," Stelmar said. "The environment and team atmosphere are going to be excellent and I can't wait to see how we all perform."
————————————————————————————————————————————————————————————————————————————————————–
She steps onto the starting block, pulls her goggles down onto her eyes and shakes her legs and hands to release her nerves. At the ear-piercing sound of the referee's whistle, senior Abigail Jameson leaps straight into the pool. Each stroke draws her forward and closer to the end of her high school swim career.
On Jan. 18, the swim team competed at the district meet where the boys and girls swim teams emerged as district champions. Jameson, a two-time state qualifier, advanced to the region meet in all four of her events. She placed second in the Girls 200 Yard Freestyle with a six second difference from first place. In the Girls 500 Yard Freestyle, she also placed second but with a 13 second difference.
"Right now my competition is really hard, but I am on the verge of qualifying this year," Jameson said. "The season's been rough for me but I have been training all year."
Jameson competes on both girls' relay teams. At the district meet, both teams placed first and advanced to region. The Girls 400 Yard Freestyle Relay took the lead with a 29 second gap. Relay swimmer, sophomore Ashley Otero, expects them to advance to state.
"I hope that at region, next week, we make it to state," Otero said. "I am super excited because our relay is in a good place right now, and we have been working all season to hopefully go to state."
Only in her second year of swim at Legacy, Otero believes her swim game escalated because of more intense practices and better training. She placed first in the Girls 100 Yard Breast and emerged district champion. The swim team began their training for region and state by adjusting their diets and practices. They will compete at the regional meet on Jan. 31 and Feb. 1.
"We do a thing called taper where we give our body a little bit of rest, eat better and don't practice intensely so we are not sore," Otero said. "Our muscles are broken down, we rest and they build back up stronger so we swim faster."
With the impending loss of several seniors, the team will need to work to fill in gaps left by graduating swimmers with records. Senior Eric Stelmar holds five individual records for the school, boasts the fastest times in the 200 Yard Individual Medley, 200 Yard Freestyle, 50 Yard Freestyle, 100 Yard Freestyle and 100 Yard Backstroke. He also ranks 98th in the world for the 100m backstroke and 68th in the 200m backstroke on the 18 and Under Top 100 swimmers. 
"The seniors have been leaders to me and I have been able to look up to them throughout my high school career," Otero said. "Now they are graduating, I am excited to see what I can do and what leadership I can bring to the team."
Hang on for a minute...we're trying to find some more stories you might like.
About the Contributors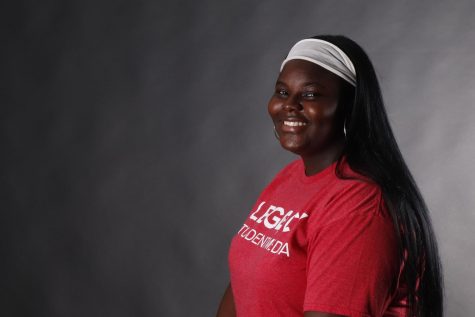 Sarah Akande, Sports Editor
i feel like i'm gucci mane in 2006