Justin Crawford: Head in the Game
He steps toward the line of scrimmage methodically. The other team snaps the ball and he shoots right through the linemen with his eyes set on Lancaster's quarterback. His legs are clipped and his right knee snaps with pain. Senior Justin Crawford tore his meniscus.
Crawford played his last down of football as a Bronco during the fourth game of the season. 
"Physically, it hurt. I knew as soon as I had hit the floor that I was hurt," Crawford said. "But mentally, [my injury] stopped me from doing a lot of things. The first week after I got hurt I was just scared to do stuff. After a while, it got better."
Crawford battled with the UIL as they kept him from playing due to transfer rulings. Since he transferred to Legacy without living inside the school district, UIL rules kept him from playing in varsity athletics. However, Crawford and his family left their old home for an apartment in the school district. A week before his injury, he got cleared from his restriction and also got cleared to play.
"
I was able to adapt quickly and the culture I came into was good for me and my life,"
— Crawford
"It was a hard thing with UIL and me," Crawford said. "Having to live in a new place and it was a lot of other personal stuff. But once I got cleared, it was all good." 
Crawford admits that missing football took a toll on him as he believed he never got the opportunity to reach his full potential.
"I'll miss it because I was really not able to show a lot," Crawford said. "I only played in two games and I was devastated. I never got to show my full ability."
However, Crawford still needed to look forward to another season, but a long road to recovery lied in his way. He endured a full 14-week recovery including six weeks of vigorous therapy to regain strength in his knee.
"I had a whole lot of physical therapy and tests and training. It was like six weeks of training after sitting out for like eight weeks," Crawford said. 
When Crawford played in the Lancaster game, they only scored eight points and amounted less than 100 yards. However, after his injury, Lancaster ran away with the game. Crawford impacts the outcome no matter what sport he plays. When he got cleared to play basketball, he brought new energy to the court. In his first game back, he scored 15 points and led the team to an 81-77 victory over Mansfield. He attributes his skill in both sports to the commitment to the two from a young age and his ability to focus on both sports. 
"I've just been playing both since I was little. I've been playing everything," Crawford said. "Once it got bigger into like middle school and high school, for me, it's just been those two."
Since his return, Crawford averages 12.8 points, 1.8 assists and 3.5 rebounds. The team's record totals 25-9 and clinched a playoff berth for the second year in a row. Crawford wants to stretch out the season as much as he can before moving on to the next level.
"Really, I wanna go deep into the playoffs and for the team to win and make it [as far as possible]," Crawford said. "But personally, I want to go to college and make it there."
Crawford collected offers to play on the college level in both sports and claims he still shares a love for both basketball and football. 
"If it came down to it, I'd probably play basketball in college," Crawford said. "I love the brotherhood in basketball, well, and football too. I just love the game."
But while at Legacy, Crawford notes the environment of his new school benefited him in ways he never imagined.
"I love the environment at Legacy. It's not even the sports alone, it's the people that are here too," Crawford said. "I was able to adapt quickly and the culture I came into was good for me and my life."
Leave a Comment
About the Contributors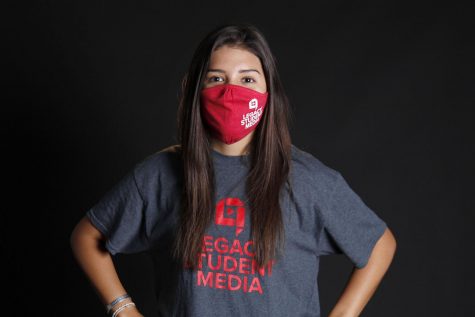 Katelyn Finch, Social Media Director
Hi! I'm Katelyn. You can usually find me at every Legacy event ever.