Update 5/8 7:14 p.m.: MISD announced graduation ceremonies will take place at Globe Life Field on June 2 and 3. The in-person ceremonies will follow safety precautions to prevent further spread of COVID-19. Campus principals will release more information about parking, ticket procedures and tickets per graduate.
---
Update 4/17 1:14 p.m.: Governor Greg Abbott announced on a Facebook Live stream that all Texas schools will remain closed for the rest of the year. Abbott also announced that retail stores will be able to reopen next Friday, April 24. State parks will reopen Monday as long as visitors wear face masks and remain at least six feet apart.
---
Update 4/16 6:02 p.m.: College Board has cancelled the June 6 SAT and SAT Subject Tests amid school closures. Additionally, College Board cancelled the April PSAT 10 and PSAT 8/9 administrations. In the event schools reopen, students can register in May for SAT tests which will be administered in Sep., Aug. 29, Oct. 3, Nov. 7 and Dec. 5. However, if schools do not reopen for the fall semester, College Board will develop a digital SAT test.

---
Update 4/3 3:44 p.m.: The district has revised its grading policy for the remainder of the 2019-2020 school year. Although numerical grades will still be recorded, second-semester grades will not count toward any student's GPA or class rank. MISD's requirement to have a certain number of grades recorded each grading period has also been suspended. Progress reports will not be handed out for the 5th six weeks, but 5th six weeks report cards will be available online on April 9. Progress reports and report cards for the 6th six weeks will be distributed electronically at the regular times. More information can be found here.
---
Update 3/31 4:40 p.m.: Governor Greg Abbott announced all Texas schools will remain closed until May 4. Abbott also stated people should only leave their houses for essential activities and follow distancing practices when doing so. 
---
Update 3/28 3:10 p.m.: Mansfield ISD released possible dates for graduation if the current COVID-19 situation persists until May. The rescheduled dates are set for the third week of June and Legacy's graduation would be Friday, June 19 at 9:30 a.m.
---
Update 3/27 6:41 p.m.: The MISD School Board passed a resolution on March 24 to calculate class rank at the first semester for seniors for the 2019-2020 school year. At the start of the year, MISD set senior class ranks to lock at the end of the fifth six weeks to keep students engaged throughout their final semester of high school for graduation purposes.
---
Update 3/27 2:52 p.m.: MISD announced in a statement this morning that the district will remain closed until a safe date to reopen can be determined. This also follows Governor Greg Abbott's decision to close schools statewide until April 3, a week later than the district's initial return date. MISD Director of Communications Hope Boyd gave insight on the district's position after the governor's decision.
"The public's safety is at the forefront of everyone's mind," Boyd said. "Mansfield ISD prioritizes the safety and well-being of students and staff members. If the governor feels this is the measure that will help ensure that safety, we will back it."
The district released a Canvas course for all students in MISD to access curriculum and lessons broken up by grade level and subject. All permanent employees of MISD, hourly and salaried, will continue to receive pay while the district is closed.
---
Update 3/20 5:12 p.m.: After adjustments to the normal school schedule to protect against a COVID-19 outbreak, Legacy teachers and faculty held an online virtual meeting through Zoom on March 20 to discuss new procedures and expectations for students and staff. 
To ensure fairness for students who do not have personal devices or home WiFi, teachers will give a limited number of assignments. Canvas due dates should not be set until at least when school resumes and uncompleted assignments can be completed without a late penalty.
Teachers can get materials from the school building but should not stay long and will communicate with parents once a week. Progress reports will not be posted at this time while the school district works on a new grading policy.
All SAT and ACT tests are canceled until June, and the College Board will provide two sets of AP tests this year.
---
Update 3/19 2:44 p.m.: All MISD schools, offices and facilities will remain closed until April 3 to prevent the spread of COVID-19. All extracurricular activities and trips are canceled until this time as well. The closure comes after Governor Greg Abbott announced new statewide restrictions today. Read more about MISD's response here, and watch Governor Abbott's full remarks here.
Students will participate in virtual classes during this time. Teachers will be in contact with students about specific assignments in the next week.
---
Update 3/15 6:17 p.m.: Mansfield ISD has suspended all classes, activities and field trips until March 27 to help prevent the spread of the coronavirus. Superintendent Dr. Kimberley Cantu sent the following email to students and faculty:
Dear Mansfield ISD Families and Staff:
Following the recommendations of Tarrant County Public Health, Mansfield ISD will be extending the spring break for an additional two weeks to help prevent the spread of Coronavirus Disease 2019 (COVID-19).
MISD schools, offices and facilities will be closed to the public from Monday, March 16 through Friday, March 27. All extracurricular activities and field trips will be canceled during that period as well.
The district will continue to monitor and evaluate the situation prior to reopening school on Monday, March 30 and will communicate updates as necessary.
We are also actively working to provide more information about continuing meal services and distance learning opportunities.
Details for families and staff to come.
We ask that you please limit travel if at all possible and practice good hygiene etiquette to prevent the spread of this illness and other contagious diseases. More credible resources about Coronavirus Disease 2019 are available on the district website.
Thank you for doing your part for the overall health and wellness of the Mansfield ISD community. We appreciate the support.
Sincerely,
Dr. Kimberley Cantu
Superintendent
---
3/13 12:33 a.m.: Mansfield ISD canceled all activities for the weekend of March 13 as a preventative measure against COVID-19. This includes the school's baseball and softball games, track meet and any other school-sponsored activities such as Key Club volunteering events. 
"I'm not worrying about catching corona right now, but if it gets very close to our area then I will take any precautions necessary to prevent becoming ill," sophomore Mia Nguyen said. "I worry school events will be canceled such as prom and graduation."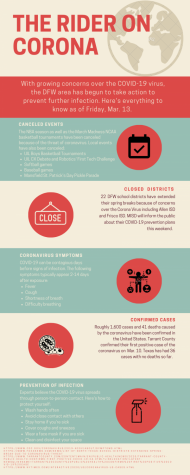 The band is scheduled to go to Disneyworld on Saturday, March 14. Although there is no official word on the trip, the park will close the next day. Senior Eliana Walker is concerned about the last-minute closing and what will happen to the trip.
"I've waited for 5 years to go to this trip and I know [band director] Mr. Nance worked really hard to get us this trip," Walker said. "I hope the Disney trip will be rescheduled. I think the best outcome will be either everyone get a refund or we go later."
Students have many unanswered questions and concerns about events beyond this weekend ranging from their sports seasons to prom and AP testing. Local school districts and universities such as Alvarado, Dallas, and Allen have canceled classes and many universities have switched to online classes.
"I highly value my academics and do not want to lose out on time that could be spent in the classroom, but this is also not just a 'bad weather day.' This is a public health concern on a major scale," junior Kathryn Stendebach said.

MISD administration will take part in a meeting with Tarrant County Public Health and other school districts to discuss health and safety concerns related to the Coronavirus. Afterward, MISD leadership will create an action plan for protecting its children and employees from the outbreak. Information will be released to the public in the coming days. 
"I am confident Dr. Cantu will make the best decision for the district," School Board President Karen Marcucci said.