Tennis Advances to Bi-District Playoffs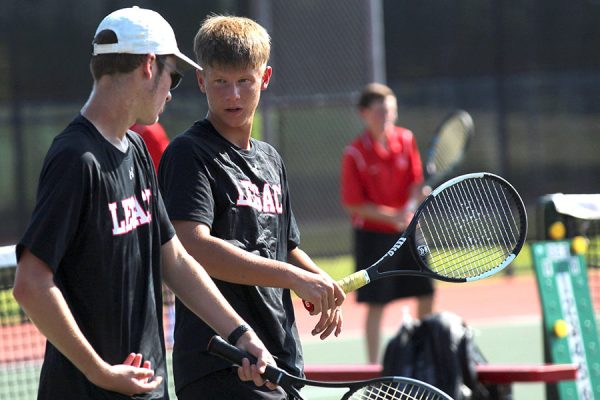 The varsity tennis team finished in second place in district play. With a win against Seguin, they secured a playoff spot. Captain and senior Noah Batson is familiar with the challenge of playoffs and has high expectations for his team.
"I expect to play my best and for the team to give it their all," Batson said. "We won bi-district last year and expect to do so again this year."
In contrast to this confidence, the team is missing a key-supporter, freshman Matt Carroll. This past week Carroll underwent emergency surgery because of a brain bleed.
"Most of us are thinking about Matt," Batson said. "Our prayers and thoughts are with him and hope for a speedy recovery."
Though in the hospital, Carroll finds any way he can to support his team.
"[Playing again] doesn't have a date at the moment," Carroll said, "but I will try my best to be there for [the team] like they were for me."
Going into the match, the team has little information on their opponent. Coach Lisa Osborn looks for a win.
"We didn't really have our spring season and in the fall we only play who's in our district," Osborn said. "I know what a couple schools in that area look like, but our opponent is not one of them."
The team will play Arlington Heights on Oct. 26 at 1 p.m. at Legacy.