Less than 1% (20 cases) of the school currently has COVID-19, but as the numbers rise, staff, students and parents wonder what's going to happen. Principal Dr. Shelly Butler continues to enforce some of last year's protocols as the new delta variant is making its mark.
"I don't want to lose a staff member or student. That looms over me because I'm responsible for everyone in this building," Butler said. "So, if one of my people goes down, it would affect me." 
Other districts such as Venus ISD, which shut down because of the number of staff out with COVID-19, already started taking short breaks from instruction as their cases reach concerning levels. The subject of taking long weekends every once in a while has come up, but the district has already set the schedule for the year. Changes wouldn't be able to come from the school itself but from the district.
"Luckily, I'm not in charge of [the schedule]," Butler said, "but it sounds like a great idea to have some shorter periods of instruction then take a four-day weekend."
Some of last year's COVID-19 protocols continue to be done behind the scenes. Dr. Butler said group work is limited, desks are being cleaned and students are encouraged to wash their hands frequently. But school nurse Julie Vasquez sees growing case numbers, and that could be the effect of masks being optional. 
"I think we should wear [masks]. I know a lot of people say they don't make a difference but they do," Vasquez said. "They make a tremendous amount of difference."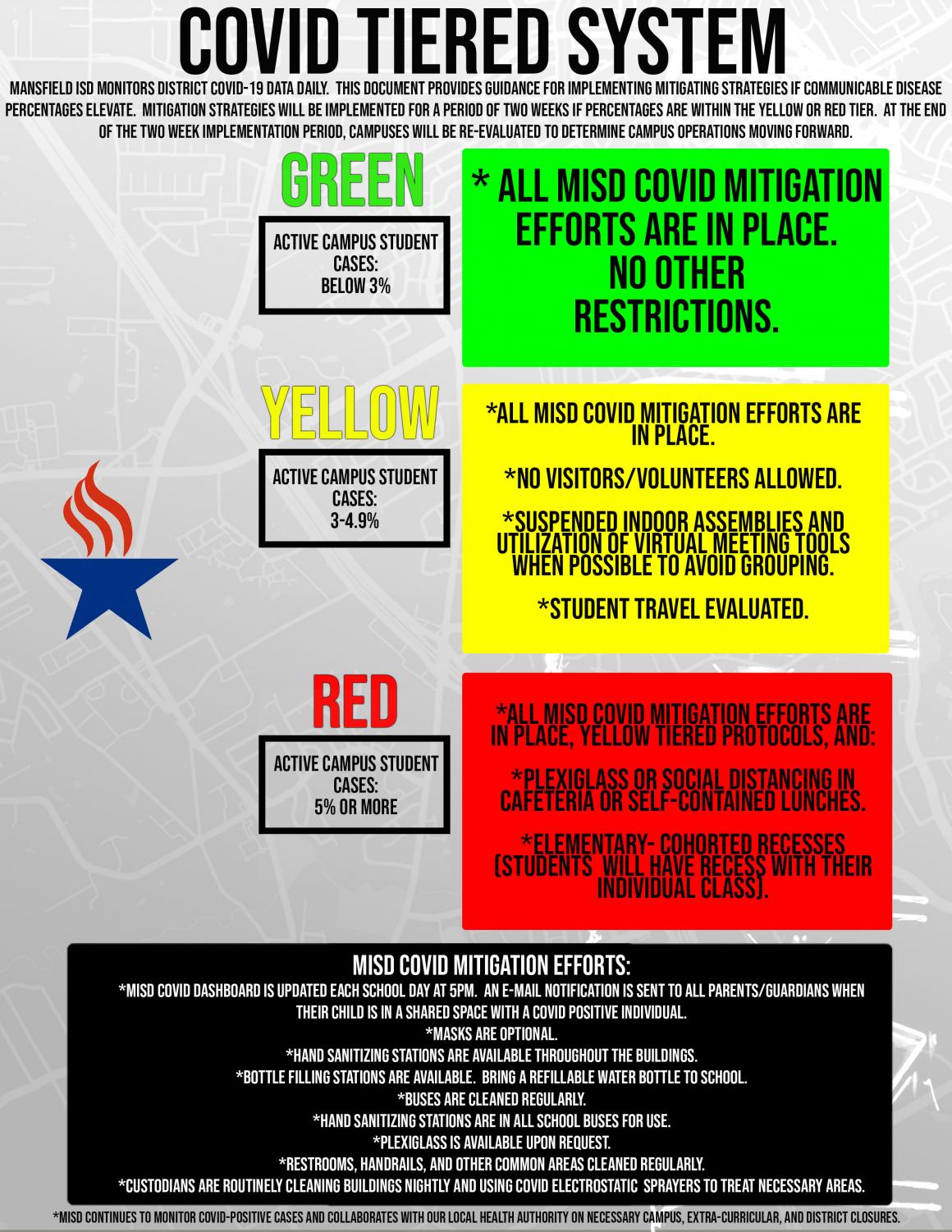 Adjustments continue to be made in order to keep parents and students informed. Changes to the COVID-19 dashboard let us see the numbers of both recovered and active cases with students and staff. MISD also recently released the Tiered Color System that measures the percentage of cases in a school's population, and what changes will be made as it grows. The school currently maintains a green level, but after large events such as the recent homecoming game and dance, Vasquez sees twice the amount of students in her clinic as normal. 
"Anytime we have events like [the game], we always seem to be super busy in the clinic," Vasquez said. "Our population is much larger than it was last year, so social distancing is difficult. It's pretty much near-impossible."
Since March 2020, there's always a fear of schools shutting down again. The possibility is less likely this year because we are more prepared, and Butler and the administration do everything they can to keep it that way. 
"We can't stop living, and we can't expect teachers to stop teaching the way they're used to," Butler said, "but we're being a little more cautious."