Mental Health Matters
In previous years, students didn't think twice if they noticed stickers decorating ID cards, even if teachers frowned upon it. Now, new state law requires stickers on the back of student IDs.
In June, the Texas Legislature passed a bill requiring public schools to print the suicide hotline numbers and key emergency contact numbers on school IDs in response to a report released by the CDC in 2020. The report noted the suicide rate among 10 to 24-year-olds increased nearly 60% between 2007 and 2018. 
The school librarians create and print student ID cards, so they implemented the new suicide hotline stickers. Ms. Pinkerton, Mansfield ISD's Lead Librarian, admits the extra step takes more work, but now students have the resources for help if they need it.
"We want to do absolutely everything we can to get you through your young adult years and on into adulthood," Ms. Pinkerton said. "Life is so much better once you get out and become an adult, but we got to get you through the teenage years."
Students who previously struggled with mental health question the suicide hotline's effectiveness. Sophomore Oliver Pimental doubts the stickers will help with the increasing suicide rate.
"It's like putting no-bullying posters in the hallways. It doesn't fix anything," Pimental said. "It doesn't add to the problem, but it doesn't fix it at all. It might give some awareness to it, but it's not going to solve anything."
Pimental can often be seen with a smile talking to friends around school. Five years ago, Pimental considered taking his own life. 
"I never called the hotline. That was absolutely not my line of thought at all. That was like the last thing I would have ever done," Pimental said. 
When Pimental decided to get help, a medical professional diagnosed him with Generalized Anxiety Disorder, often just referred to as anxiety. As part of Pimental's treatment, he met with a therapist and discussed coping mechanisms to get through his depressive episode.
"I talked. I made friends, which isn't easy. It's not easy at all. It's always been a big struggle for me," Pimental said, "and I don't really make friends often. It's not a big part of my life honestly. It was really difficult. It's not just an easy thing that you can do to help fix everything."
Not all students reach out for help. When sophomore Abigail Morris was in eighth grade she played the viola and often joked around with those sitting near her in orchestra class. She noticed the student behind her stopped coming to class, but she never realized how much he struggled.
Orchestra students filed into class on a seemingly normal morning, and a few students noticed the unfamiliar adults around the room. On this particular morning, all of the students reported to one orchestra room, instead of splitting into two classes, so they knew some kind of announcement would be made. Their teacher gathered everyone's attention and announced the missing student passed the night before. Later that day, rumors passed around and most students knew he committed suicide.
"Honestly, when people ask me what my biggest regret in life is, I always say that it's not getting closer to him before," Morris said. "He sat behind me for a year of class, and something silly would happen in class, and I would turn to share the joking moment. But that was as far as I ever went. We never struck up a conversation with each other. I wish that I had."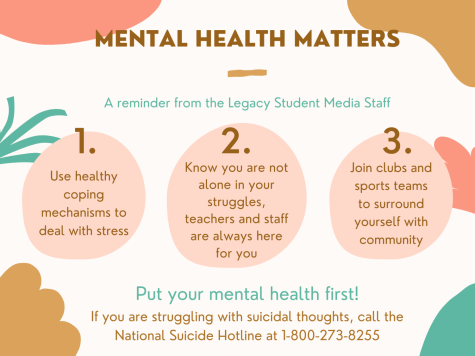 Morris sat in front of the student for only about a year, yet she continues to struggle with the lasting effects of grief.
"After you've been through something like that," Morris said. "All you want is to prevent it from ever happening again. You don't want to see the pain that the family and friends and everybody felt after that. You just want to prevent it from happening, not only to you but to everybody else again."
Lead Counselor Dana Vorsino advises students to reach out for help. Legacy's counseling office employs six academic counselors and refers students to licensed, professional counselors if needed along with prodigy parents with resources.
"There are people that can help and care about you," Vorsino said. "If you are struggling, let somebody know so we can help you."
Since fifth grade, Pimental drastically improved his mental health. Now, he no longer struggles with suicidal ideation, in fact he helps others through their struggles. Currently, his friend grapples with suicidal thoughts and tendencies, and he never wants her to feel so desperate she needs to call the hotline where there's a possibility she could be put on hold in the middle of a crisis, which has been reported to happen.
"She's really struggling. It's really worrying to me. Sometimes, I'll talk to other adults and get tips on how to help her," Pimental said. "When I notice my friends struggling, I try to reach out to them first so they don't have to reach out to a place as flawed as the hotline."
Leave a Comment
Donate to The Rider Online | Legacy HS Student Media
Your donation will support the student journalists of Mansfield Legacy High School. Your contribution will allow us to purchase equipment and cover our annual website hosting costs and travel to media workshops.
About the Contributors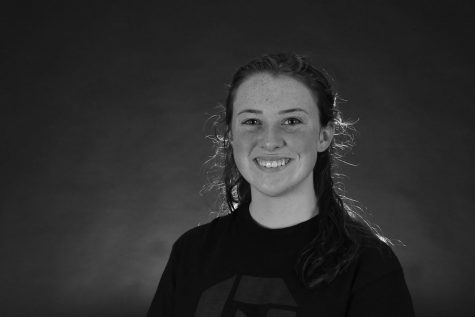 Mariah Hanlon, Staff Writer
I'm Mariah, I'm the oldest of five and I write because I don't have to do the dishes for my small army of a family if I'm doing school work.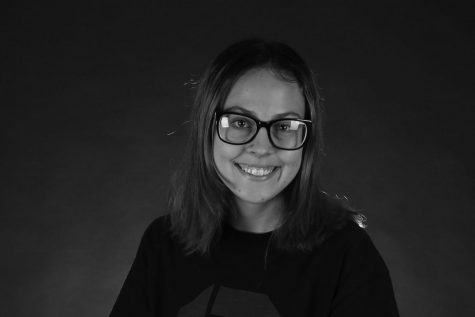 Brooklyn Hilmes, Photographer
I'm just here to take photos and graduate.