Students Hang Posters to Redefine MISD's Dress Code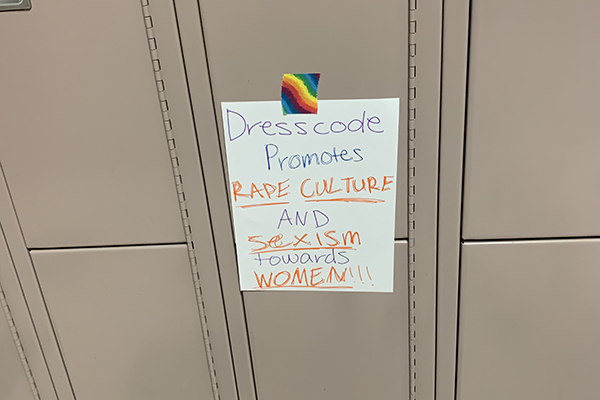 During first period on Sept. 7, junior Valkra Padilla and a group of her friends hung posters along the hallway walls protesting the dress code policy implemented in the student's handbook.  
Leading the protest, Padilla hangs posters that read "Dress codes promotes rape culture and sexism toward women." 
"I personally am protesting the dress code because it promotes victim-blaming," Padilla said. "It promotes rape culture, and it's just very toxic and very sexist." 
The MISD student handbook states "The district's dress code is established to teach grooming and hygiene, prevent disruption, and minimize safety hazards." But Padilla thinks the dress code is sexist and sexualizes young women by restricting the clothes they are able to wear.
"The dress code has honestly instilled in me this idea that what I'm wearing, allows guys to touch me however they want because if I'm not in dress code I'm distracting the male students," Padilla said. "It essentially gives them an outlet for inappropriate behavior."
Shortly after the posters were put up they were taken down by staff because students require permission to put up posters. The activist felt no one was listening, pushing them to protest during lunch. "My body, my choice, I won't cover up for boys" the activist chanted through the cafeteria. 
Assistant Principal Zelmarian Ready said the staff is following MISD guidelines.
"I understand that in the real world you can peacefully protest and have your signs up. But when it occurred here it was a disruption to the learning environment," Mrs. Ready said. "I do understand these students' concerns about dress code, but we just need to make sure we are following procedures as well as the process to get their voices heard."
The dress code policy was last updated by the school board in August before the new school year started. But activists believe the dress code to be outdated and does not accommodate students. Sophomore Molly Mejia said the dress code requirements are unreasonable.
"I can understand where they're coming from, but it gets to a certain point where they're just starting to be exaggerated. The legging rules aren't necessary," Mejia said. "You can't wear them unless you wear a long shirt that is fingertip length which is kind of unfair because everyone's fingers are different."
Students believe the dress code prohibits them from fully expressing themselves, and limits their freedom of expression. Senior Rykeiz Smith said the dress code is aimed more at female students. 
"Everybody should be able to wear whatever they want because dressing is a way for people to express themselves but they seem to get onto the girls more than they do the guys," Smith said.
Moving forward, the assistant principals have provided Padilla with proper information on who to contact to change the dress code. They also agreed to allow the activists to continue to hang up posters that have been approved by an assistant principal. They have been offered the option to make a list of their dress code concerns to be discussed at the next school board meeting, scheduled for Sept. 28.
"While it may be viewed as baseless screaming, we're making change," Padilla said.
The activists hope to adjust parts of the dress code to be more accommodating to students across MISD, and divert from the idea of sexism in the policy while teaching students how to make changes in something they don't agree with.
"I want students to take away that their voice does have power, people will listen to you. And sometimes you do have to disrupt. There is no change without disruption, and if that's what it takes to get equality and to get a place for our students to feel safe, then that's what it takes," Padilla said.