Varsity Football Introduces New Traditions to Strengthen Team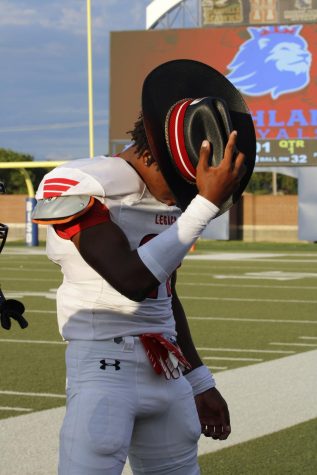 He is engulfed by the team as a black cowboy hat is placed on his head. The takeaway hat, a new defensive tradition given for every interception or fumble recovery made, one of the many traditions created this year to boost team morale. The student section celebrates junior safety Landyn Cleveland's interception against Richland High School. 
"It felt great to receive the hat. I had the whole team around me. We were all happy and turnt up," Cleveland said. "We all had a lot of energy and that translated to the field. It was an amazing feeling." 
Defensive Coordinator Coach Keith Knowles takes pride in the defensive traditions. One tradition he created is participating in a new pre-game dance. Coach Knowles ends the ritual with WWE star Ric Flair's signature "WOOO." 
"I look at my group of boys, and I see the new excitement level," Coach Knowles said. "The energy as a team has been much better this year than it was last year." 
On the offensive side, the offensive backs created handshakes between the players and coaches done before each game. Junior Marcus Hayes created the handshake for the running backs and has taken a liking to the new team atmosphere.
"I feel like they're important because they keep the team together and keep us all on the same page, showing that we're all working toward the same thing," Hayes said.  "I noticed that we're all working together, coming closer as a team. We see each other as actual brothers instead of just saying it, we actually mean it."
Co-offensive coordinator and offensive back coach James Thomas II heads the student-athlete of the week and teacher of the week honors that highlight a student and teacher for their work in the classroom each week. Teachers are nominated by the team and teachers nominate students to Coach Thomas.
"I came up with this idea to help build a culture that includes our teachers, as well as encourages our athletes to work hard in the classroom to lead by example. I think that it has been a tremendous success," Coach Thomas said. "The teachers absolutely love it. And then our student-athletes, they're really into it now. It's become more than ever I thought it could. It's just helped build that culture into what we're trying to do here."
In preparation for each game the varsity team hosts team dinners in the cafeteria catered by Cotton Patch Cafe. After the meal, the team goes down to the field to support the junior varsity or freshman teams as they play.
"It's all about team bonding and them just being together," Coach Knowles said. "I always felt like breaking bread together actually helps you grow together and that's the goal of it."
In addition to other traditions created by the team, the breakout chant is new this year and takes place at each practice and game. The team huddles together, clap three times, and does six jumping jacks spelling out "Legacy" letter by letter, ending with the chant "boom". This tradition carried on to the junior varsity team as well. Since these traditions have been established, the team has surpassed the win total from last season. 
"Because of these traditions we have better chemistry than we did last year," Cleveland said. "On the opposite side of the ball, you and the quarterback need to have a good relationship when we're each other out on the field. And then our defense, the more chemistry we have, the better we're gonna play together."