Best Rap Albums of the Year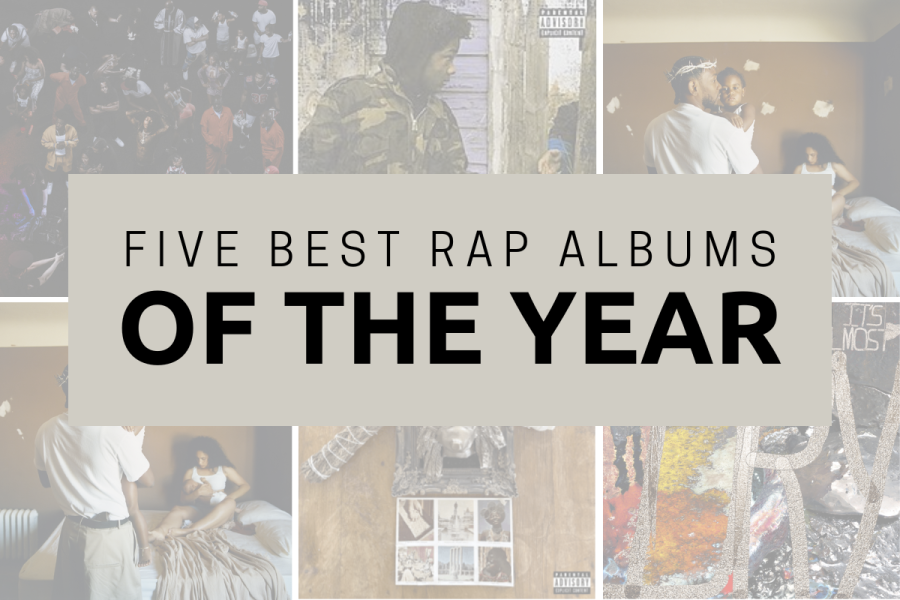 5. "It's Almost Dry" – Pusha T. 
In his fourth studio album, rapper Pusha T delivers a strong and consistent record. Released on April 22, almost four years after his last album "Daytona". It also became his first number-one album when it debuted first on the Billboard Hot 200. "It's Almost Dry" featured six songs produced by Pharrell Williams and six produced by Kanye West. These two greatly enhanced the album with their ability to create good beats for Pusha to rhyme over. In these songs, Pusha's confidence highlights his jewelry, fame, and money. The highlight tracks are "Dreaming of the Past", "Diet Coke", and "Brambleton". With strong feature performances from Kanye West, Jay-Z and Don Tolliver throughout the album, the album is definitely a very entertaining listen. 
4. "God Don't Make Mistakes"- Conway The Machine.
Conway the Machine began as a member of Griselda, a hip-hop collective consisting of Conway the Machine, Benny the Butcher and Westside Gunn. In his second album, Conway sounds much more mature in rhymes and beat choice. He reflects on his life and the people he lost with tracks like "Stressed" and "God Don't Make Mistakes". Conway feels a lot more open on this album which causes for a much more immersive listen. "John Woo Flick" is one where Conway isn't as personal, but I think it's the best song on the album. With strong guest features from Benny the Butcher and Westside Gunn, all three of them flow flawlessly on this song and are easily one of the best tracks Conway has released. It debuted 175th on the Billboard Hot 200.
3. Sick! – Earl Sweatshirt.
 This album was Earl's return to music after five years. His first album, "Doris", was received very well when it first came out in 2013. After a very short record, "Some Rap Songs" in which Earl sounded very miserable and depressed throughout the album's short run time of 25 minutes. Earl sounds happier and more angelic in these songs. He released a music video for the single off this album "2010" and in the video he is seen smiling and looking joyful. A good sight for his fans to see. Earl's wordplay along with his lyricism are amazing as always, creating vivid imagery with his rhymes. The top tracks are "God Laughs", "2010", and "Fire in the Hole". Once again, Earl delivered a strong record with many pleasant tracks. 
2. The Forever Story– JID. 
Released on Aug. 26, JID instantly put his name in the conversation for album of the year. The whole tracklist is very strong with almost no skips. The album kicks off with "Raydar" which immediately tells you that this album is going to have a lot of energy and intelligent rhymes. The flow switches he displays are extremely impressive. Another highlight on the album is "Bruddanem". In this song, JID melodically talks about how he won't betray the people he cares about because he knows that they would do the same for him. Chicago rapper Lil Durk pitches in a great verse on this song as well. The production of this album, mainly done by producer Christo, was done very well also. After a disappointing album in 2018 JID came back with a very high-quality album. Nearly every part of this album was executed very well which earned it 12 on the Billboard 200 chart.
1. Morale & The Big Steppers– Kendrick Lamar. The most anticipated rap album of the year did not disappoint. Kendrick Lamar is touted as one of the best rappers of all time and he displays that on this record.  Kendrick masterfully flows on every song in this album. Kendrick talks about the things that he has gone through in his last five years, in which he didn't release any music. The first song he did when he came back was "Family Ties" with his cousin, Hykeem Carter, better known as Baby Keem. "Mr. Morale and the Big Steppers" is separated into two different parts. Kendrick takes a more personal approach to this album. This album focuses more on some of Lamar's struggles and some of the issues he deals with. In the song "Father Time" he touches on his father's issues. He explains how it affected him emotionally and why he wants to be a better father to his kids. It is just very nice to hear Kendrick being more vulnerable similar to Conway the Machine on a couple of songs on his album. Kendrick also talks about how all the money, fame, and recognition have not rid him of his pain. He gets his point across using insane flows and beats. Lamar is at the point where he is so talented that he can convey his experiences and struggles into song form so effortlessly, and it is very apparent on this album. It also features strong verses and vocals brought in from Blxst, Taylour Paige, Baby Keem, and Tanna Leone. The production is also very versatile while also being consistent. This performance by Lamar netted him his fourth number-one album. 
Overall, this has been a good year not just for rap but music in general. Music is a beautiful thing. Whether you use it as an escape or just listen to it for fun, I believe that there is music out there for everyone. Even if you aren't a fan of rap music, I think you can appreciate these albums.
Leave a Comment
Donate to The Rider Online | Legacy HS Student Media
Your donation will support the student journalists of Mansfield Legacy High School. Your contribution will allow us to purchase equipment and cover our annual website hosting costs and travel to media workshops.
About the Contributor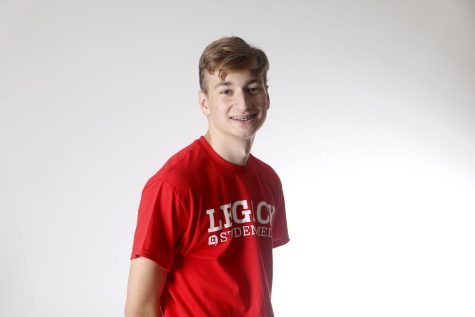 Cameron Hooper, Staff Writer




i know a little bit about a lot of stuff