A horse head on a cooler, an empty sink, a basketball hoop and the whole stage covered in newspaper scraps. BOB! A life in five acts!, the last show of the day. Expectations are high and all six other schools watching, waiting to see what Legacy Theater has to offer. 
Theater hosted 6A District One Act Play on March 4. A total of seven schools were all there competing for three open spots to advance to bi-district. Legacy's show, BOB!: A Life in Five Acts, advanced and competed in the bi-district competition on March 21. Though the show did not advance, the team will have a final public performance on March 28 at 3:45 and 7pm. Senior Aleah Weitzman plays Jeanine and Amelia, Bob's mom and Bob's love, likes One Act because the cast and crew has more chances to bond versus other shows.
Competition is all day, students are allowed to watch the other school's plays until they have to get ready to do their own or finished with their show. Freshman Cade Pickrell has done One Act Play in the past but this was his first experience with high school one act. 
"Competition is really stressful. But it was fun to be with the group that you love and getting to see the shows," Pickrell said. "Having to get everything within the time is stressful at the moment. But in the end, it really does all work out."
"
"Our show is organized chaos. Our set literally looks like we just threw a bunch of things on stage. Even though it looks like a cluttered mess. We know exactly where to pull out props and different pieces for different scenes."
— Aleah Weitzman
The competition has judges that sit in the audience watching every play. Though they may have seen the shows before they are there to judge the performance of the actors and how well they tell a compelling story. Also, there are contest managers to make sure that the rules are not broken. For example, the 40 minute time limit, the limited set pieces, and the seven minute set up and take down of the set. If the rules are broken it can result in a penalty affecting their overall score or disqualification. The director, Jeremy Ferman has to take in to account the rules while rehearsing for the show.
"The play has a lot of rules to keep all the schools on a somewhat even level playing field so that each school has to use the same base set pieces and that they have the same rules as far as the length of the show." Ferman said. "I would prefer to tell a full story where I don't have to cut up a script. But I do enjoy One Act play because it's fun to watch a small group of people come together for a performance. All of our shows, we invite other schools to come out and see them but with one act we get that kind of a captive audience. They're all there and we want to show him how good we are."
Each school has access to clinics in which a judge, not one that will judge them during competition, watches their show and give critiques to help make the show better. The shows are often in a state of constant change whether minor or major they do what they can to improve the show.
"I realized that the show took a turning point after our second clinic. The clinician had an idea of what is the purpose of the chorus." Ferman said. "We sat for about 30 or 45 minutes and as a group cohesively discussed things and started bouncing ideas. I had an idea and another actor had an idea and then we bounced that idea off someone else and all came full circle and that's the show, it's not a show about Bob. It's a show about these people telling the story about Bob. I think it changed everyone's perspective on it."
Bob was the last show performed on during district. Senior Danny Wall who plays Bob was awarded outstanding performance and best actor. After all the shows are performed each school gets critiques from the judges, then the judges go on their own to decide on which shows will advance.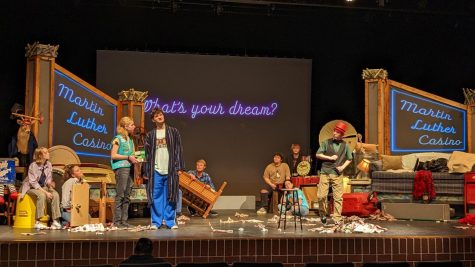 "They announced this last, which was so cruel. They did Waxahachie first then Cedar Hill. And I saw Aleah crying and there were a couple of other people sobbing," Wall said. "Once they found out that we advanced it was just a rush of energy my heart was pumping with adrenaline."
With One Act being the spring show, it is often the last for many seniors in theatre. This can be an emotional experice when performing and with the tradition of bigs and littles the upperclassmen who have done one act before get a chance to guide someone through the process. 
"I'm genuinely just love theater in general. I like the aspect of One Act Play because of the community aura that it makes. When we get to competition and other schools don't advance or we don't advance, everybody is still so nice and uplifting and congratulatory, so it feels like everybody really is a family." Wietzman said. "I have had a couple of the freshmen and our newer sophomores tell me that they see me as a role model or a leader thats biggest compliment that I can receive. I came into senior year with that goal and that one day maybe I'll come back and see them in my place, like I gave them a home and allowed them to feel like they had a place to blossom and grow within the theatre."