Opinion: In-Person Students Should Be Allowed to Complete Work Virtually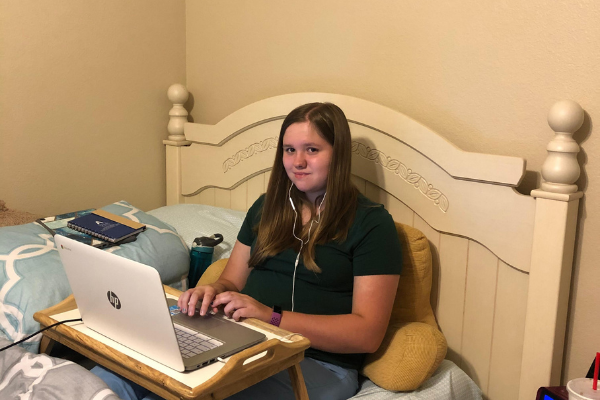 When the school year started, school protocols looked different than in previous years. The biggest difference was the ability to stay home and be counted present as if you were at school could be an option for students who wanted to take a day off. 
As of now, it comes easy for students to sleep in and then quickly hop onto a TEAMS meeting to justify their absence from school. This allows them to miss a day, relax but meet the requirements for showing up to class. However, as school nears the end of the second six weeks and attendance rates continue to slack, MISD administration changed the flexible attendance option. 
Beginning Nov. 4, the choice to stay home and be counted present will no longer exist. All in-person students must attend class unless officially quarantined by the district. This changed policy becomes an inconvenience to students because they need the time to get away from school without having to worry about missing classes and becoming behind on assignments.  
The new guidelines set for the next grading period become a disadvantage to students since the freedom to take days off when needed will come to a halt. Scientists in Penn Foster explain an unhealthy amount of stress for teenagers who go to high school. When stress worsens, grades slip, anger issues reveal and sleep deprivation will take an incline in their life; all of which take a toll on their school work as well. Students who deal with anxiety, depression and other chronic illnesses struggle to come to school every day. The option to stay home every now and then poses a possibility that could help them in the long run because it could release some pain that comes with their afflictions. 
Overall, almost every student deals with stress. Hours of homework, studying, preparing for presentations can cause students stress. Not worrying about showing up for school all the time to focus on tests and assignments outside of a school environment decreases the chance of high stress for students which will help them to come back to school stress-free.  
Ms. Madison, the Academic Associate Principal at Legacy, says the absences came from students who didn't want to show up for school. There will always be students who abuse the gifts given to them, but that doesn't mean administrators should take away a blessing that helped other students. With students that abused their power, there also come students who use this opportunity wisely. Therefore, taking these rules away from those who need it, could hurt them in the end.