Broncos Hope to Defeat Summit for First Time
Hang on for a minute...we're trying to find some more stories you might like.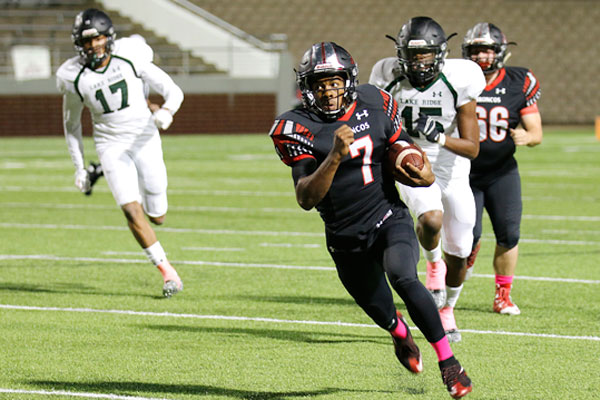 Lake Ridge Quarterback, Jimmy Bean, drops back in the pocket, scans the field and throws it to his receiver. However, senior Kyle Pruitt breaks on the ball, intercepts it and returns it fifty-three yards setting the Legacy offense in good position to score.

The Broncos won the game 49-39, improving their record to 4-1 in district. With two games left in regular season play, the team has the opportunity to make the playoffs for the first time since 2013. The team would play Cleburne High School in the Bi-District round of playoffs. The Broncos are second place in district and if they win one of the next two games they're into the playoffs, no question. The Broncos play Summit this Friday, October 28. Legacy has never won a football game against the Jaguars. Kyle Pruitt says that could change Friday night.  

"

I think we can go all the way in playoffs if we keep working hard and improving our game."

— Coach Chris Melson

"We just have a different vibe about us. Last year it wasn't there, during this part of the season," Kyle Pruitt said. "Not only do I want to beat Summit, I want to embarrass them."

Going into the playoffs, Head Football Coach Chris Melson knows every practice becomes crucial.

"Good preparation and good practice is key to improving each week," Coach Melson said, "and I think we can go all the way in playoffs if we keep working hard and improving our game."

Legacy's chances of making the playoffs are looking good heading into the Summit game. Players on the team say they believe Legacy has a chance to go far, some would even say the team would bring home a state title.

"We can go as far as the team wants. We have a great coaching staff and a great team," Pruitt said. "To me, the sky's the limit for how much success we can have."

Free Safety Treylin Brooks said that the Broncos are working hard to fight for their playoff spot.

"This season has opened a lot of eyes. Everybody knows what type of position that we're in," Brooks said. "We know playoffs are coming, and we just have to get there one game at a time."

The Broncos are currently ranked second in the district and the top four spots will advance to playoffs. Last season the varsity football team fell to Summit, but beat Red Oak 59 to 35. So far this season Summit has a record of four wins to four losses and Red Oak has two wins to six losses. The Broncos have never beat Summit, yet senior defensive end Tony Bragg remains confident that this season will be the season that, that changes.

"Our team has a chance to win. We're going to dominate and cause an upset," Bragg said. "We're just gonna worry about that one game. We're not worried about next week. It's all one game at a time.

Starting quarterback, senior Kendall Catalon currently holds the third highest number of passing yards and the third highest number of rushing yards. Kendall also holds the fourth highest number for total scored points and third for total number of touchdowns. Sophomore Jalen Catalon holds the district's highest number for tackles having had 117 this season. Jalen is also fourth on the leaderboard for interceptions.  Starting running back Kameron Session has the highest number of rushing yards in the district with 1268 this season. Broncos dominate the district leader board for total number of sacks with junior Mason Kinsey at first and sophomore Taurean Carter at second.  

"We'll play these next few games just like every game," Brooks said. "[We're] going in being humble, being precise and getting the [win]."

The Broncos take on Summit this Friday (away team) at 7 at RLA Stadium.
About the Contributors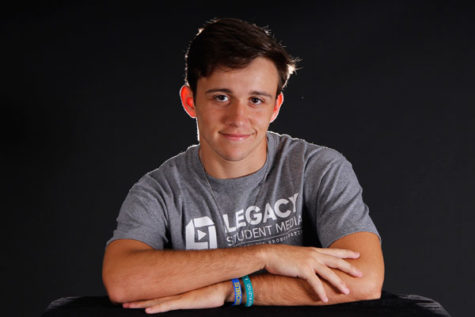 Jorden Melson, Sports Editor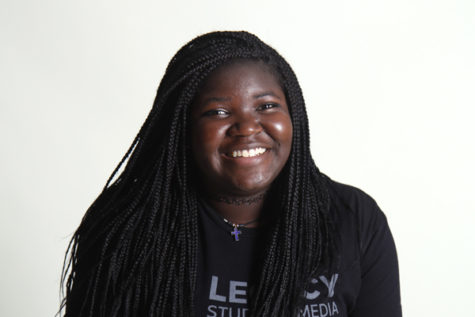 Kendra Washington, Sports Editor
My name is Kendra Washington. I am a senior with a love for Jesus, writing, singing, football and people. I'm the Sports Editor for TheRiderOnline.com...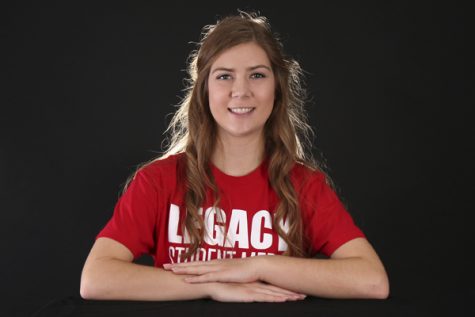 Megan Bell, The Rider Photo Editor
Hi I'm Megan Bell!
I am the Photo Editor for The Rider Online so I edit all the pictures you see on this site! I am a senior this year and I'm planning...