Spring Football Holds High Expectations
The school day ends and almost everyone goes home. But the sound of familiar clacking rings through the parking lot. The pads are back on and the helmets are strapped back up. Spring ball has just begun, and sophomore Malachi Mitchell hopes to seize the opportunity to learn his new role at Sam Linebacker.
"I've come into spring not knowing much about my new position," Mitchell said. "Spring ball will help me learn my position and make me a better player."
Getting better seems to be a key goal to Mitchell, but he also wants to impact the team and do it by earning the title of a starter.
"Spring is going to help me and my teammates become better players, and to compete for a starting varsity spot," Mitchell said. "I want to contribute to the team and better myself as a player. I want to come out on top with a starting varsity spot."
But the opportunities that Spring Ball brings have been open for business ever since the school became a school, and Offensive Coordinator Tim Kilgore enjoys how much potential each spring comes with.
"We've always done spring ball, and, Lord willing, we'll always do it. It's always been good for us because Coach Melson likes it. I totally agree with him," Kilgore said. "It's just a great time for teaching with more time to get it done. So, we are excited about all the possibilities."
With all the possibilities for learning and competing, Coach Kilgore would love players to just do things to the fullest and also do it right.
"Every position is going to have to learn something new. We just want them to have great technique while giving great effort. So, if we don't have both of those, there's a problem," Kilgore said. "I want them to give great effort and learn it exactly how it was taught."
Not only does spring ball give a chance for the players to master their craft, but also instruments the coaches chances to improve as well. Kilgore loves the timeliness of spring ball and how every part of the program, kid or coach, can get better at what they're doing.
"It gets us refocused, It's like a new jigsaw puzzle, there are new pieces and it's laid out differently. We can't call the same plays and it's going to be different," Kilgore said. "So, getting the coaching staff on the same page and teaching them up, they get better going into the fall. And instead of learning it then, we get to learn it now and chew on it all summer."
Although the spring season has just started, Kilgore believes he and the rest of the program cannot wait for the Friday Night Lights next season.
"The ceiling is very high, and our expectations are through the roof," Kilgore said. "We're excited. We will be ranked very high, and it'll be for a good reason. Kinda like T.O. said, get your popcorn ready."
The spring game will be Friday, May 18.
About the Contributors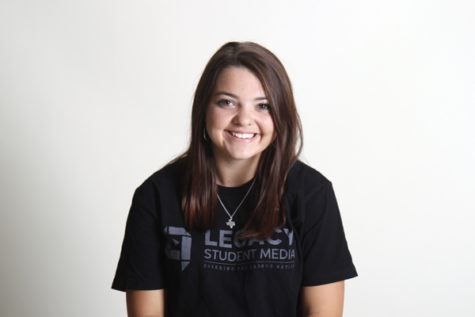 Tori Greene, The Arena Photo Editor
My name is Tori Greene, I'm a senior at Legacy and I'm the photo editor for The Arena.