Tennis Prepares For Spring Season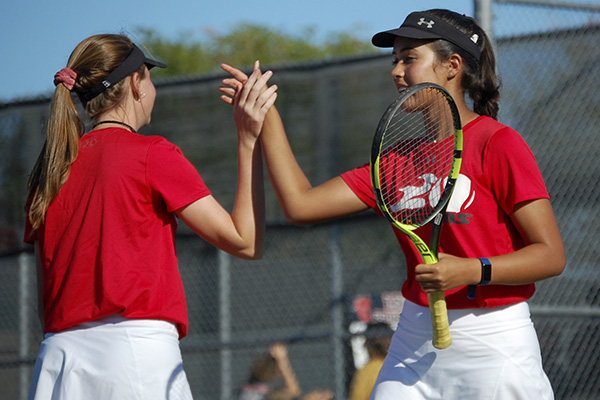 The slight scrape of shoes on the court slice through the air. Hands slap the floor, rise up and slide forward. In push-up position, Head Tennis Coach Chad Redwine coordinates a drill as every player must move the ball cross-court using only their noses. He uses this drill to institute mental toughness as the spring tennis season approaches.  
After finishing the fall season undefeated, Coach Redwine plans to use the upcoming season as a time to hammer down small improvements and considers it a nice change of pace. 
"I like the spring because it's not as busy or chaotic as the fall. I'll only have one or two players playing at a time so I can really get more time and focus with them on how to improve their game," Coach Redwine said. "I really get to focus on fitness, fundamentals, mastering strategies for whatever game they play. We focus on hitting patterns and plays to be more efficient and increase our chances of having success."
During the fall season, sophomore Will Mabe made the leap to varsity and remained the only freshman to hold that position. Mabe won 'Freshman of the Year' for the district during the fall and was a major component to the team's success. He hopes to build on his reputation by keeping doing what he's been doing and sets a high goal for himself. 
"It's a pretty big goal but I'd like to make Regionals if at all possible," Mabe said. "I just gotta keep up the hard work I put in to become the only freshman on varsity. I mean, that's what got me there. Working hard, playing hard."
Mabe notes the challenges that arise with the spring season but knows how to deal with them.
"I'm playing singles this spring season which is a lot more competitive than a doubles game. In doubles you know, you got another guy to support you, but in singles, it's one-on-one," Mabe said, "but I just have to put in the work needed."
One of the other key components of the team's undefeated fall season was senior Megan Novak. However, in October, Novak broke her foot and has been sidelined since. Novak acknowledges the challenge that came with her injury but made very practice, led every warmup, and never left her team's side.
"I was always there," Novak said. "That was one of the ways I felt like I was still part of the team even if I couldn't actually do anything."
Even though Novak just got out of wearing her prescribed boot, she holds onto the hope that she will get another chance to play this season. 
"It's hard, I just started walking a few days ago," Novak said. "I've started actually playing a little bit again and I've gotten back in the weight room and done some physical therapy and I've just got to get back from not walking to playing."
Coach Redwine looks forward to the spring season and admits the love he has for this year's team.
"This team works hard, but they have fun. They've got a really close bond together and everyone really gets along. They're basically a family but without all the fighting," Redwine said.  "They all enjoy what they're doing and work hard at it and that's what makes it fun for any Coach."
The team's first tournament of the season is on Jan. 24-25. Friday matches will take place at McFarlin Tennis Center and Saturday matches will be held at Fairchild Tennis Center.