The McReynolds's: Living A Legacy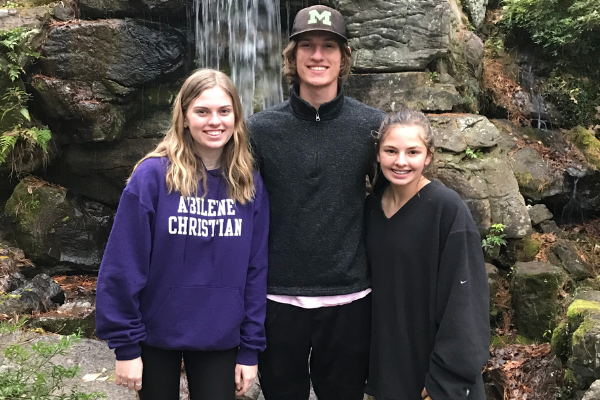 They grew up together. They went to the same church. They lived in the same house. Now they all attend Legacy together.
This year, senior Audrey, junior Hudson, and freshman Emily McReynolds enjoy attending school together for the first time since elementary school. Although the siblings possess different personalities, teachers often confuse Emily to her older siblings.
"My teachers always call me Audrey's or Hudson's little sister and sometimes they get excited because of how much they loved them or scared because of how 'difficult' they were," Emily said, "but altogether the teachers are happy to have me."
The addition of Emily this year hasn't impacted Audrey's routine much. Aside from coming back to school from TCC at home to pick up Emily, Audrey hasn't skipped a beat.
"It's honestly fun when I come to pick [Emily] up," Audrey said. "[Having siblings at school] is not as bad as people think it is at all."
Because of different classes and schedules, the McReynolds don't see each other at school often. 
"It doesn't make much of a difference [that they are at Legacy]," Audrey said. "It's nice to see them whenever I do though."
The older siblings have helped make Emily's adjustment to the new school easier. They do more than give her rides; they also helped with her schedule and finding her way around the building.
"It's nice having them at the same school because they can tell me about the classes and teachers they had, how to pass the class, and how the teachers are," Emily said. "Both of my siblings have helped me decide what classes are best for me along with how much I can handle this year."