The District of Doom. 
As Legacy's football team nears the beginning of district play, the Broncos prepare to face one of the toughest public school districts in the entire country.
"The district of doom is exactly as advertised; a complete bloodbath," sports videographer, Ore Adebanjo or @oashotit on Instagram said. "It's the best district in high school, and the parity between teams makes for entertaining games across the state."
Although the district proves rich with history, new history will be written. With a stronger team, Legacy enters district 2-1, already more wins than last season. As a result of the team's improvement, the student section boasts much larger numbers than last year. Senior Walker Ballard, a leader within the student section, attends every game and likes the direction the team is headed in for this district season.
"People are coming out to the games and the students are bringing the energy," Ballard said. "The players seem to be flying around out there and having fun, the morale all around just seems up."
Ballard isn't the only one with more confidence regarding the Broncos' new season. After their win against Crowley High School, a former 5A district opponent, junior Brandon Young let everyone know there was more success to come.
"It's our year," Young said. 
And it's really that simple. As the Broncos prepare for this season full of new elements, they will have to rely on some unfamiliar faces to help them win games. Senior Wide Receiver Paul Summers II, a former student of Duncanville, feels the responsibility of leading the team, even though he joined the Broncos this year.
"I think the challenge [of] being a leader at a brand new school would be the guys trusting me," Summers said. "Along with that would be them taking the faithful step and believing that I can lead by example rather than just being a talker."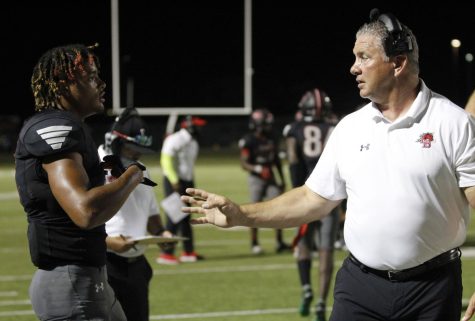 Summers is not alone in leading the Broncos this year. Defensive backs Landyn Cleveland, 11, and Curtis Taylor, 12, are team captains this year and veteran Broncos who've been here since freshman year. As two of the longest tenured players, leadership will come off the field naturally, so the team looks to have this same leadership between the lines.
"It's great being a leader on the team," Cleveland said. "I get to help the young players with their game and they look up to me so I can show them the correct things to do."
Similarly to Cleveland, Taylor loves being able to help the young players. The Broncos ultimate goal to win and turn heads, will need contributions from all the players to be possible.
"I don't really think about being a leader too hard, if you know you got your teammates back, they'll bring the same energy and follow the same principles," Taylor said. "This season will definitely shock a lot of people the way we turn it around from last year."