After opening the school in 2007 and serving as assistant principal for the last 16 years, Facilities Associate Principal John Contreras will retire at the end of the first semester. Mr. Contreras oversees the day-to-day operations of the building and manages student discipline for students with last names Li-O, among other responsibilities with teachers and staff.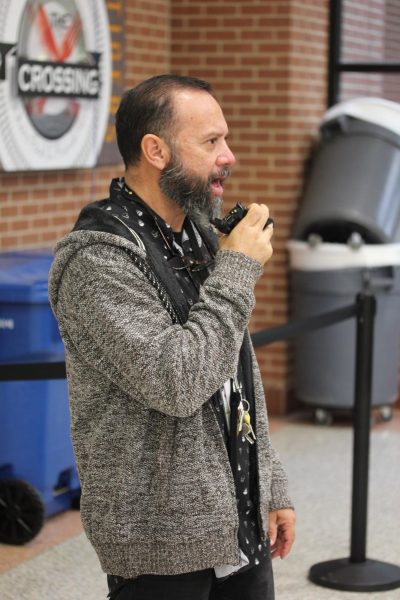 "When I have been here at Legacy, I have always made an effort to build a relationship with the students, get to know them, and care about them," Mr. Contreras said. "My time here has been a privilege and honor to work with so many teachers and administration."
Although Mr. Contreras is only assigned to students with specific last names, he made it his mission to make all students feel at home.
"I just try to greet every student," Contreras said. "Anytime I see students in the morning, I try to make them feel welcomed by telling them, 'Hi, good morning, have a great day.'"
Dr. Stephanie Bonneau, principal, sat on the hiring committee to fill the position when he retires after Christmas Break. His replacement, Mr. Pedro Cavazos, is currently an AP at Mansfield High School and will move to Legacy at the start of the second semester.
"It will be hard to replace him because he is part of the campus," Dr. Bonneau said. "Often you don't realize how much someone does until they're not in a position anymore, and I'm certain that will happen when Mr. Conteras moves into retirement."
Long-time colleague of Mr. Contreras, and current physics, teacher Ms. Jennifer Lowry has worked with Mr. Contreras for 18 years and finds her experiences with him enjoyable.
"Cafeteria duty is always an entertaining experience," Ms. Lowry said. "He's so funny, and I don't think a lot of people know that about him because he has to be serious all the time."
When informed of the retirement Ms. Lowry knew it would be hard to replace a person like him.
"When you work with someone for so long, it is going to be hard to work with someone new," Ms. Lowry said. "It will just take a while to build a relationship."
In her experience, Mr. Contreras was always a positive person and great to work with.
I'm excited I'm retiring but at the same time, I'm sad because I'll miss the students, the administrators, faculty, and staff. I'll miss greeting the students in the back and hallways telling them to have a good day."
— Mr. John Contreras, Facilities Associate Principal
"He is always helpful, always positive, always expecting the best out of kids and adults," Ms. Lowry said. "There isn't anything he wouldn't do to help someone out, he's just that kind of person."
Though he looks forward to retirement, Mr. Contreras dreads leaving students behind and wishes them the best as he retires.
"I'm excited I'm retiring but at the same time, I'm sad because I'll miss the students, the administrators, faculty, and staff. I'll miss greeting the students in the back and hallways telling them to have a good day," Mr. Contreras said. I hope and pray all the students have continued success. I want students to always believe in themselves, believe they can achieve anything in life, and always be a class act."