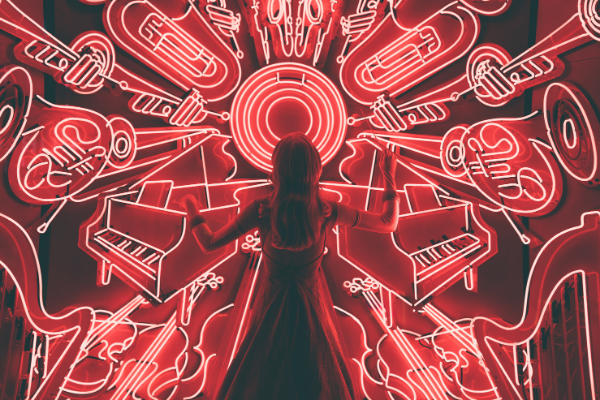 When it comes to children's movies, themes like friendship, optimism, and acceptance become overused, but Pixar's movie Soul released on Dec. 25 portrays a different message. A message both kids and adults can learn from. Soul follows Joe Gardner, a jazz band teacher, played by Jamie Foxx and 22, a depiction of a soul, played by Tina Fey in their journey of self-discovery. By the end of the film, 22 learns the true beauty of life and Gardner becomes aware of what he truly desires in life. 
The movie starts off on a rough note, quite literally. Between the sound of tuning instruments and Joe Gardner's struggle to lead his class of unmotivated middle schoolers, it makes one wonder how he deals with it all. However, Gardner's interest does not lie in teaching but in playing music. His interest started with his childhood when he saw a jazz performance with his dad, from then he hoped to become a professional musician. Because of Gardner's dissatisfaction with his teaching job, his character can relate to adults stuck working a white-collar job instead of following their dreams.
Joe Gardner finds out auditions opened for a spot on the jazz band of a well-known musician, Dorothea Williams played by Angela Bassett. On his way home to prepare for the auditions, he ended up in a place called the "Great Before". With its unique animation and elaborate color, the scene takes on a different vibe than the beginning of the film. It adds color and a sense of simplicity as opposed to the realistic, day-to-day colors seen in New York.
In the Great Before, Gardner becomes confused with a mentor and meets a soul called 22. Compared to Joe Gardner, 22 seems more childish despite being hundreds of years old. As a mentor, they went through various ups and downs, the characters learned about grief, isolation and pondered the important existential questions like the meaning of life.
Throughout the film, Pixar highlights aspects of African American culture with the barbershop scene and the inclusion of jazz that makes up most of the storyline. However, Pixar still found a way to ruin it through its portrayal of the main character, Joe Gardner. Although Soul became Pixar's first movie to star an African American lead, it followed the same footsteps as another Disney film starring an African American lead. Like Soul, The Princess and the Frog also turned their lead minority character into an animal for most of the film. It contradicts the growth Pixar showed and makes the diversity seem unimportant. 
Despite the familiar portrayal of the African American lead in the movie, Soul still shared a unique message that creates a friendly atmosphere making it a great choice for family movie night. I would rate this movie a 7/10 since it left off on a cliffhanger and its failure to portray the main character differently, but I enjoyed the way Pixar connected the characters and the humor they shared.