Girls' Varsity Soccer Gets Back in the Game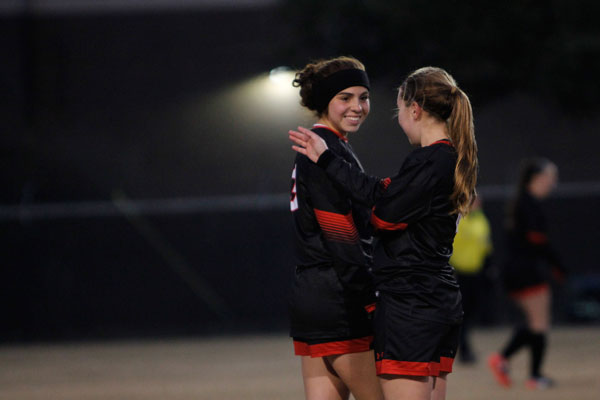 After getting beat 5-1 in last year's regional semi-final against Prosper, girls soccer made some changes to their team. Previous head coach, Heather Wilson left, and in came Zachary Hallack. So far Hallack has successfully replaced Wilson with the teams on track to win another district championship.
"Love him and his passion," Athletic Coordinator Chris Melson said, "He's a great hire who's gonna do great things for our program."
Senior Wendy Cantu believes that Coach Hallack is more encompassed in the team than Wilson.
"Our new coach is really different than Coach Wilson," Cantu said. "He's really involved, and you can tell he cares alot about our team.
Earlier this season, the team rematched Prosper and tied them 1-1. Junior Brigid Murray felt like losing to Prosper in the playoffs pushed her to work harder.
"After the loss against prosper last year, it motivated not just me, but the whole team to work harder to make sure we'll be ready for whoever we get to play," Murray said.
Senior Dezirae Rodriguez kicked the ball towards the goal which smacked the Lake Ridge goalkeeper right in the hands, consequently bouncing back to Rodriguez. She kicked it again and it went into the goal with ease, 1-1 tie game. Later however, Lake Ridge would answer within the last four minutes of the game to win 2-1.
The Broncos took their second loss of the season last Tuesday against Lake Ridge. With five district games under their belts, the team currently sits in second place. Already, the team has outscored its opponents 50-9 throughout the first eleven games.
"I'm expecting us to have a lot of success, play good on both sides of the ball, win the district again and ultimately make a deep playoff run," Cantu said.
Every team's different. They have different strengths, different chemistry and different weaknesses. Cantu believes the team's greatest strength would be there determination.
"A strength of our team would be our desire to win, we don't give up no matter how the games are being played, we're all competitors who all want the same goal which is winning games," Cantu said.
Although the expectations for the team are high, Cantu still finds ways to enjoy spending time with her teammates while training to get better throughout the season.
"My favorite part about playing on this team is my teammates, and the relationships we have," Cantu said. "Everyone gets along well, it makes us a better team because we all know how to work together to reach our goals."
The team has an away game next against Red Oak on Tuesday, February 13, at 7:30 p.m.
Hang on for a minute...we're trying to find some more stories you might like.