Cross Country Begins Fall Season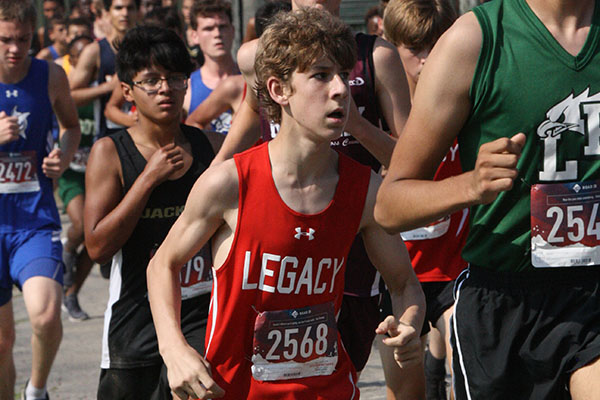 This past summer, junior Kristen Felan received an announcement from Jeffrey Lindsey, the new cross country coach: practice would start a month before scheduled. Eager to start the new season with a new coach, Felan and the cross country team prepared for the 6 mile practice runs in the park. 
"We've improved a lot and have a higher chance of going to regionals this year," Felan said. "[Coach Lindsey] has a different training method than our previous coach, but it has been a huge improvement for our team."
Coach Lindsey graduated from Mansfield High School in 2002 and ran for the University of Oregon until 2006. Lindsey now returns home with a new position of the Legacy cross country coach. Lindsey came to Legacy in the summer bringing his sarcastic and humorous attitude with him.
"From the day I got here, I think the kids bought in super quick that we had a goal and a mission and they believed me when I said we could get there," Lindsey said.
To prepare for meets, the team either practices on the track for speed or goes on a long run. The cross country team will participate in two additional meets before the district competition, on October 17. 
"My short term goal is definitely to make it to state this year," freshman Ava Crisafulli said. "As far as the team goes, I think we can definitely make it to state for the next few years."
Crisafulli, the only freshman on varsity for the 2019 season, competed and placed in the top five of the previous invitational meets at Burleson, Waxahachie and Midlothian.
"It can be intimidating because there's juniors and seniors I'm running against, but it's really fun," Crisafulli said. "My long term goal is to get a scholarship for running."
The boys' and girls' teams both place second in the district and hope to compete at the regional meet in October. In the region, the girls rank fifth place and the boys hold 12th place.  At the Ken Gaston Invitational on Oct. 3, the girls' team placed second in the Varsity Elite division to gain the experience in larger meets.
"I think a realistic goal is for the girls to go to the state meet. But I think we can get both teams, boys and girls, to regionals," Lindsey said. "And that has not happened in the same year for both boys and girls and I think we are absolutely going to take both teams to regionals."