Update: Boys' Soccer Playoff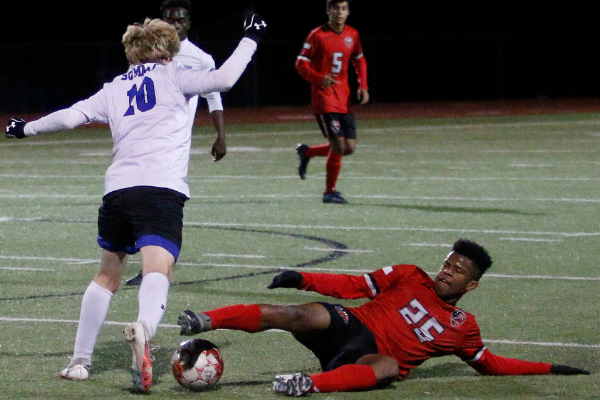 UPDATE 3/25/2021
The Broncos finished district play with a 10-2-2 record in second place. The team was tied for the most goals scored in the district as well. With this, the team moves on to playoffs for the third time in a row. 
Senior captain Seldin Korkutovic believes in his team's ability to execute on the playoff stage.
"We keep fighting and will definitely show our best performance to all the teams we meet in the playoffs," Korkutovic said. "Coach has always preached the idea of 'next man up' where we will always be ready to go."
The bi-district first-round match takes place at R.L. Anderson in Mansfield on Thursday, March 25 at 6 p.m. Tickets are available on TicketSpicket and will not be sold at the door.
———————————————————————————————————————————————————————————————————————–
The varsity boys' soccer team suffered their second loss in over a year on Jan. 23 against Grapevine, the team ranked right above them in preseason rankings.
In a Dallas Morning News article, the team ranked as one of the top 5A teams to watch this season. Each game provides an opportunity to continue and uphold their high standards. Coach Michael Keel believes last year's successes do not determine those of this year.
"[The team] should appreciate the privilege of pressure," Coach Keel said. "We enter every game with a target on our back; we get every team's best effort. This has caused us to have to step up our game."
In preseason, the team went 6-2-2 through 2 tournaments and select matchups. These games gave the Broncos able opponents and the opportunity to develop with one another.
"Preseason is a time for a squad to improve ability/chemistry and get into shape for district," Coach Keel said. "We had a successful preseason with a few learning experiences as well."
The Broncos began their district play with three straight wins, but hold a current record of 9-2-2 and occupy second place with 1 game left to play. The team procured the same number of points as Burleson, but hold the upper hand because of their 5-0 victory over them. Though first place is out of reach, junior Joshua Omorodion hopes to stay in second and begin to shift focus on higher aspirations.
"Even though we may not be playing the best teams, we don't want to have another slip-up that puts us back in third place," Omorodion said. "[The team] just has to take this last week seriously and we'll be fine."
Last year, the team went undefeated in district, but playoffs were cancelled because of COVID. As a member of last year's team, Omorodion looks for retribution going into playoffs.
"It'll be difficult watching another team lift the trophy," Omorodion said. "Our main goal for after district is to go far in the playoffs and win state, especially after last year's cancellation."