Swim Competes at San Angelo Invitational
Freshman Yasmina Allen, one of four JV swimmers invited to the San Angelo Invitational meet on Oct. 29 and Oct. 30, qualified for the meet during the Arlington ISD Invitationals on Oct. 16 by swimming the 100-meter freestyle in under 1:12.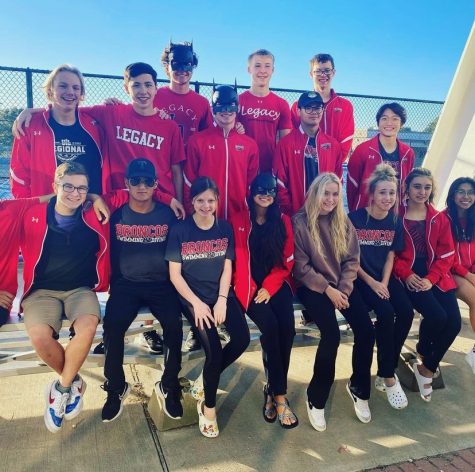 At the Mansfield ISD Natatorium, swim meets consist of ten minutes of swimming, then two to three hours of cheering on their teammates. However, at the San Angelo Natatorium, the sound systems blared songs such as "Party in the USA" and "YMCA". 
"The best part of the meet was when they would play songs while we were doing our events," Allen said, "so it wasn't boring. Everyone sang along off-key."
The swim team ranked fifth overall during the preliminary meet and fourth overall during the finals. Nicholas Johnson, Legacy's swim team coach, accompanied the team to the meet. He's proud of seniors Kaden Ho, and Wyatt Tullbane coming in second and third in the 500 freestyle.
"I was happy with our results at the meet," Coach Johnson said. "Our experienced athletes met my expectations and our younger athletes gained some valuable experience."
Allens's 400-meter freestyle relay made it to the finals, but they placed last out of the twelve teams that competed.
"I was bummed, but I was happy that I dropped time," Allen said.