A Long Awaited Arrival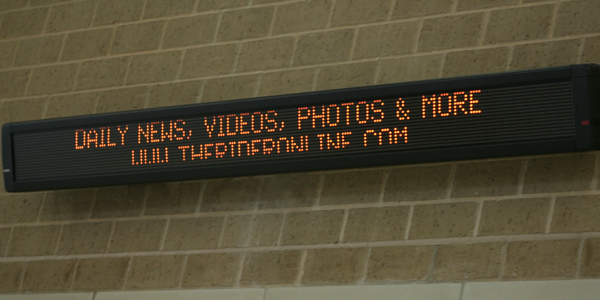 Kymber Cullum, News Editor
September 16, 2011
Senior Andrew Wittry directs his focus to the message board above the Bronco Cafe. After reading the scrolling announcement, he takes out his calendar and jots a short message into the square.
"The board will help students who don't hear the announcements know what's going on," Wittry said.
Though not having bought the marquee until the end of last year, it has been wanted since the school's opening.
"We weren't able to do a traditional marquee outside mainly because of city codes. Newer city codes require shorter boards; however, there was concern over vandalism and that's when we started looking at the electronic board for the cafeteria," Senior class sponsor Stephanie Shackelford said.
All clubs and organizations have the opportunity to display a message or announcement on the board. Messages must follow the one-to-two line criteria before being posted. Although the marquee benefits the whole student body, Mrs. Shackelford wanted to specifically help the senior class.
"Mr. Wright secured the board for us and has allowed the senior class to be responsible for since we have the most messages to send," Mrs. Shackelford said. "It was either going to be seniors or student council. I spoke up first because the one complaint I hear most often from seniors is that they didn't hear announcements and didn't know when a senior event was taking place.  I'm trying to do as much as I can to alleviate that."
For more information on the marquee or how your organization can post a message, please e-mail Shack at [email protected] or stop by her room at A-T219.