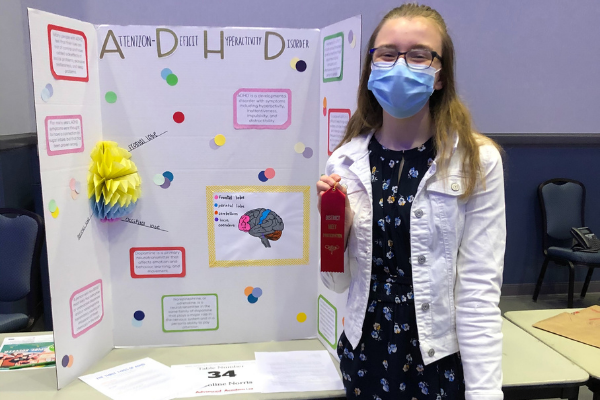 After six months of research, planning and creating her GT Independent Study Project, sophomore Caroline Norris won runner-up at the district competition April 8. Out of 197 Gifted and Talented students at Legacy, Norris was the only student to participate in the Independent Study competition this year. 
"I was put into the GT program in kindergarten," Norris said. "Being in the GT program has given me opportunities to do extra projects that push me out of my comfort zone and keep me engaged."
Since October, Norris has studied the neurological effects of ADHD on the brain for her project. In March she competed in the MISD Area competition, but as the only competitor from Legacy, she automatically advanced to district where she went up against three other Gifted and Talented students from MISD. 
"It was interesting to see what everyone chose to research and what they created," Norris said. "I had fun with my project and genuinely enjoyed learning about and researching it." 
GT Specialist and math teacher Julie Gross met with Norris weekly to ensure her progress. As a mentor for the GT students on campus, Gross showed support and guidance to Norris as she created her project. Aside from those weekly meetings, Norris had full creative freedom.
"She worked so hard for six months on top of her schoolwork. This project was done outside of school," Gross said. "She worked diligently to make sure she was prepared." 
Norris presented her final project as a tri-fold poster with a pop up to model the specific areas of the brain that ADHD affects. Next year, she hopes to form her study around the GT stereotype. 
"GT doesn't necessarily mean smarter, it just means that students think differently than what's considered normal or average," Norris said. "This has given me opportunities that I don't think I would have gotten otherwise and I'm happy to have them."