StuCo Hosts 'Coronacation' Spirit Week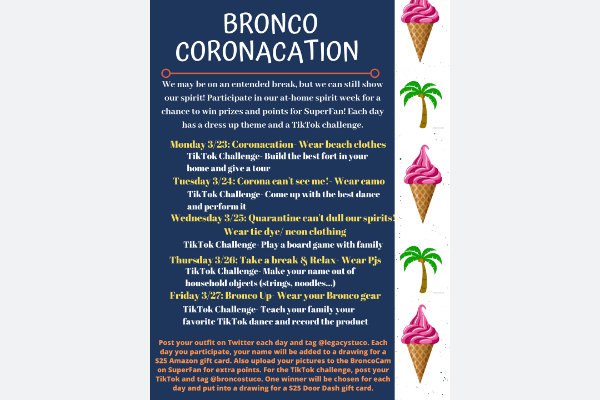 Amidst the shortage of toilet paper in grocery stores and craze of the coronavirus, Legacy StuCo still looks for ways to occupy students during the two-week school cancellation. During the week of March 23 to March 27, StuCo will organize Bronco Coronacation, an at-home spirit week to maintain morale and occupy students during the extended break. Junior Amber Trammell, Student Body Vice President, hopes for student participation so the week turns out successful.
"I think this week will help students have something to do to pass the time during the week," Trammell said. "The quarantine is pretty boring and the challenges give kids a small objective each day."
Every day of the week boasts a dress-up theme and a Tik Tok challenge. The inspiration for the spirit week came from Keller Central and intends to serve as a way to bring the student body together through social media. StuCo encourages students to post their dress-up photos and Tik Toks on Twitter to be entered for two drawings for a $25 Amazon gift card and a $25 DoorDash gift card. The StuCo Twitter account will announce two winners in a post on March 27.
"I hope this helps students realize that they can still have fun and show school spirit even though we aren't able to be at school," Trammell said. "It shows that we're united even when we aren't together."
StuCo sponsor  Kenna Cavnar will look through all posts that tag @LegacyStuCo on Twitter and @broncostuco on Tik Tok and enter all participants in the drawings. For extra points, pictures can be uploaded to the Bronco SuperFan app.
"With the closure of schools and limitations on our gatherings under the necessity of social distancing, we thought it would be a great time to come together through social media and have some silly distracting fun," Ms. Cavnar said. "We hope everyone participates."
Monday
Dress Up: Wear beach gear
Tik Tok Challenge: Build a fort and give a tour
Tuesday
Dress Up: Wear camo
Tik Tok Challenge: Create a dance and perform it
Wednesday
Dress Up: Wear tie-dye or neon
Tik Tok Challenge: Play a board game with your family
Thursday
Dress Up: Wear PJs
Tik Tok Challenge: Make your name out of random household objects
Friday
Dress Up: Wear Bronco gear
Tik Tok Challenge: Teach your family your favorite Tik Tok dance and record it
Leave a Comment
About the Contributor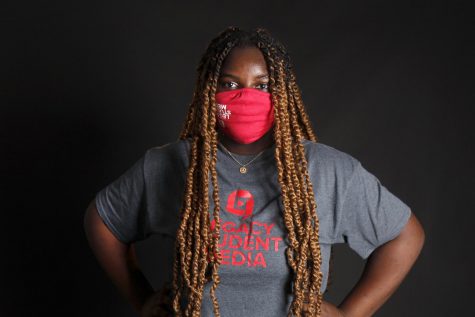 Sarah Akande, Editor-In-Chief
it's you throwing pencils at my face to wake me up in class