Things To Do While In Quarantine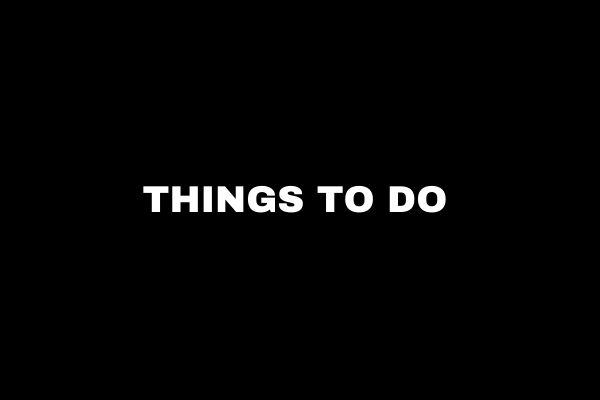 It is important to social distance in order to slow the spread of the virus, but this can lead to a new level of boredom. While school is closed and the town is shut down in the middle of the COVID-19 pandemic, everyone has to find ways to entertain themselves. There are ways to occupy your time and stay productive and active during this time, we just have to make the most of this time at home. 
Learn a New Recipe
There is no time like the present to learn a recipe while at home with your family. Most people eat meals at home now so there is plenty of opportunity to cook for your household. Search through old family cookbooks to find new recipes to try out or ask for some suggestions from friends and family. 
Arts and Crafts
Now is a great time to go down the never-ending rabbit hole of Pinterest to find new arts and crafts to do with household items. For the more artistically inclined, go full on Bob Ross and paint some "happy little trees" or whatever you see around you. 
Clean and Organize
It's time for spring cleaning anyway and less clutter in your quarantined room can reduce the stress and anxiety of confinement to one area. Proper reorganization can take a few hours for the desired outcome so this will burn up quite a bit of time. 
Play a Boardgame
The age-old boredom buster: board games with the family. This gets everyone involved and a chance to have some healthy competition. Monopoly is a great time killer during this period of self-isolation since it feels like the game that never ends. On the other hand, if the family has not been fighting yet, they will be now. 
Exercise or Yoga
The stay-at-home mandate does not prohibit going outside for exercise. Teens should still get at least 30 minutes of physical activity a day, regardless of the opportunity to stay in bed all day. Use this extra time to play a sport with siblings, walk pets or go for a run through the neighborhood. Yoga also offers a more relaxed pace and helps many people with the alleviation of stress. For some group entertainment, look up group yoga poses and try to attempt one.
Take Up A New Hobby
Everyone has had things they wish they could learn but never had the time or patience, so now is a perfect time to take up a new hobby. These hobbies can range from artistic talents or reading or something more physical like a sport. 
Online Shopping
If you have some extra spending money lying around since you haven't been out lately, a lot of stores are having sales right now. Plus, it gives you the opportunity to support some small businesses by placing online orders. 
Catch Up On a Favorite Show
Spend a day in bed and rewatch your favorite show or begin a new one you've waited to binge. Watch the reality TV shows you have heard all about, maybe the last season of The Bachelor, that was a whole doozy. Streaming services will also add more content in this time. 
Have a Just Dance Marathon
Have a dance competition with your family with Just Dance videos from the video game or from YouTube videos. This is a great way to entertain yourself for a while and get some exercise in for the day. 
Beat All of the Worlds in Mario Brothers
Go back to the childhood days. We all know it took forever to pass a world on the classic Mario game. Break out the old Nintendo and try to beat every level. 
Become Tik Tok Famous
As most of the country is on lockdown, teens everywhere spend more time on the app. This means there are higher chances of going viral. Plus, the topic of quarantine offers so much potential for quality content. If posting isn't your thing, just learn a new dance. It will take up some time and be entertaining for everyone who watches. 
Become an Adult
Read our "How to Adult" series to get you ready for the real world.