Journalism Student Wins 5th Place at State
Representing Legacy in a black t-shirt with the journalism logo printed on the front of it, sophomore Abigail Morris glanced over the crowded room of teenagers and advisors. 
"I wasn't really worried that much because I had written so many editorials already," Morris said. "It was very crowded that morning of [competition] and the entire atmosphere of being at a college campus with hundreds of writers who are the best in their region was very overwhelming."
State UIL qualifiers and next year's editors from Legacy Student Media traveled to Austin on May 5 to the University of Texas for the State Academic Meet. Competing in the Editorial Writing for UIL meet, Morris anticipated a competitive meet against of the best writers in the state.
"Mallett and D made it clear that making it to state was already a big accomplishment, so I tried not to put too much pressure on myself," Morris said. "I still felt like I needed to place well because I had at all of the previous meets." 
Morris and sophomore Jonah Pedroza competed on May 6. Along with 12 other writers in their 5A division. They sat in a room with their computers and printers set up waiting for the competition to start. The proctor called roll until everyone on the list accounted for they passed out the prompts and gave instructions as needed. Once the proctor readied herself, she started the allotted time and Morris typed her story. Jonah Pedroza followed in the next event.
"It was the hardest story I have written for UIL," Pedroza said. "I had to really follow the format that I use for every UIL event and hope for the best."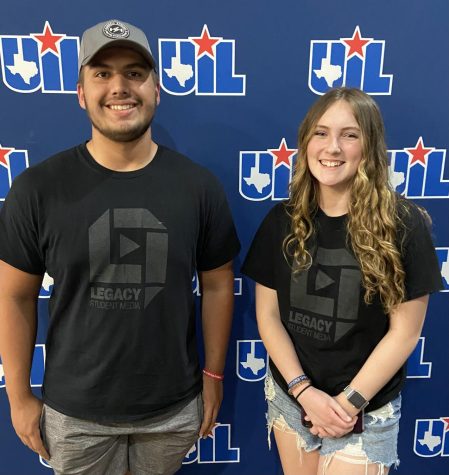 Once Morris and Pedroza finished competing, they took an opportunity to join other journalism peers at the state journalism conference also held at UT over the weekend. The conference held classes where newspaper writers could learn about the importance of writing, how to better their skills, and journalism leadership. Pedroza, the sports editor of The Rider newspaper, attended classes regarding sports journalism. 
"The conference we went to was very insightful and I got to hear good speakers," Pedroza said. "It [the conference] was definitely worth it. I think the trip as a whole was a good getaway from my daily life but also will help me grow as a writer."
At the end of the day, State UIL awards were announced. Morris, Pedroza, their peers and advisors waited for names to announce. 
"I tried to be very nonchalant about awards, because I didn't want to seem excited and not end up placing," Morris said. "When they called my name the only thing I really thought about was the best way to get to the stage without tripping over someone."
Morris walked up to the stage to accept her medal with a wide grin, Morris won fifth place overall. 
"Journalism is absolutely worth it. It's stressful, a lot of work, and it makes you cry sometimes," Morris said, "but the fact that we all come back together to work every day should show how big of an impact it makes on you as a person."