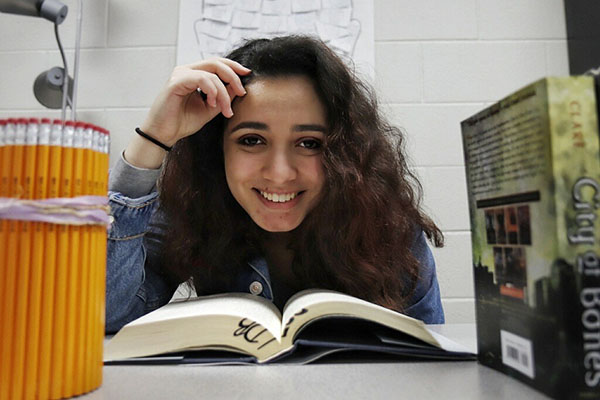 The atmosphere remains silent once the meeting begins, but as the aspiring authors gather their thoughts, the entire mood shifts. Junior Lana Abdulrazeq prepares to share her ideas.
Every other Wednesday, Abdulrazeq attends Author's club in Ms. Lisbeth Bennett's room. The club starts as Abdulrazeq sits at her desk with a pencil alongside other students working on their next exciting new story. 
Abdularezeq's interest in writing spiked during sixth grade. She expresses her love for writing every other Wednesday in the Author's Club which allows for an environment where creativity flows.
"
Author's club had made me feel more confident about my writing style and the support I get from that group It's just amazing,
— Lana Abdularezeq
"I really liked reading, and reading got me into writing to let people have a story when they are lonely," Abdularezeq said. 
Abdularezeq realized her fondness for writing and eventually leading her to write a story of her own. Abdularezeq has gained more confidence ever since joining Author's club freshman year and since then has had the help of other students to become a better writer as well. Although she hasn't published any of her work she leaves room to edit each story further growing them.
"Author's club is like being in a family, everyone is accepting of anyone and every one no matter who you are," Abdularezeq said.  "The president at the time encouraged me to come out of my comfort zone and I just fell in love with the club and the people in it."
The more Abdularezeq got to know her fellow writers the more she felt comfortable with her own writing. Since then, she found her own witty writing style and has learned how to express herself more through her writing.
"Author's club had made me feel more confident about my writing style and the support I get from that group It's just amazing," Abdularezeq said
Abdularezeq gets better at writing with each passing day. Her love for writing has stayed strong as she hopes for future opportunities such as an internship with Epic Reads Book Publishing Company.
"Hopefully one day I'll be writing books and musicals and everything in between," Abdularezeq said
Abdularezeq has the support of the Author's club sponsor, Ms. Lisbeth Bennett, who believes Abdularezeq's fondness for reading will help her dreams become a reality.
"As an underclassman, she was itching to get started, she wanted the knowledge and experience in the palm of her hands," Ms. Bennett said. "As an upperclassman, she's beginning to recognize that this experience has to be earned and that there is a time and place for everything." 
Abdularezeq knows about the hardships of many of her favorite authors from their own personal stories and experiences. She understands the difficulty of becoming a successful author. Nonetheless, Abdularezeq has been elated to start her career as a writer.
"Don't give up, on trying even the best writers got rejected and don't rush into it, your time will come," Abdularezeq said.