Mr. Hoffmann: Marching Off to Iowa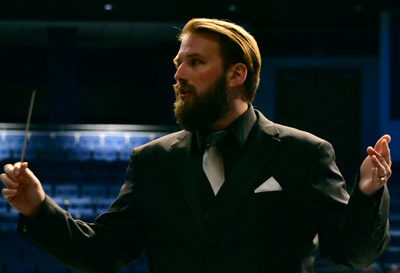 The wind quiets and then a loud roar comes thundering from the crowd. People jump to their feet, thrilled at what they had just experienced at the Indianapolis concert in 2018. Head Band Director Adam Hoffmann was in shock from the reaction from the crowd.
"The top [experience] in my book is performing at the National Concert Festival in Indianapolis, in March 2018," Mr. Hoffmann said.
Throughout the year, Mr. Hoffmann prepared his students for this spectacular performance, and it paid off. Among his experiences, Mr. Hoffmann also made friendships at Legacy. One of them being assistant band director Andrew Nance.
"As a head director, for him to be as young as he is and be in charge of a full program, that says a lot about him," Mr. Nance said.
Mr. Hoffmann worked with his students and helped them play difficult pieces of music. They practice for hours in order to have the ability to play hard music and play it well.
"Everyone I get to work with here has just been awesome and like family to me," Mr. Hoffmann said, "Legacy is a great school to work at, so it's going to be hard to leave, for sure."
Mr. Hoffmann plans to move to Iowa in order to be closer to his family. He has two nieces and a nephew, and eventually more on the way.
"[Ms. Hoffmann and I] want to be involved in their lives," Mr. Hoffmann said, "We just want to be closer so we can spend more time with them."
Mr. Hoffmann plans to be a co-director at a high school. He will also teach ninth and tenth-grade concert band, top jazz band, and help with the middle school band. However, Mr. Hoffmann will not forget his time here at Legacy.
"I have had a lot of great experiences here," Mr. Hoffmann said.